Discovery of the Tek Sing Cargo


Captain Michael Hatcher, one of the world's most successful salvagors of shipwrecks (among which were the Hatcher Collection, from an unidentified Chinese junk and the Nanking cargo from the Dutch Geldermalsen that sank in 1752. Both cargoes were successfully auctioned in Europe in the 1984 and 1986 respectively with enormous success) has struck gold again!

The Wreck
This time he has discovered the sunken remains of Tek Sing ("True Star"), an unusually large junk measuring approximately 50 meters long and 10 meters wide and weighs around 1000 tons. Tek Sing set sail from Xiamen (Fujian Province) in Jan 1822 (one year into the reign of Qing Daoguang emperor) and headed for Java. It had more than 200 crew members and at least 1600 passengers, majority of whom were emigrants looking for work in sugar cane fields in Java. The fateful disaster ocurred in Feb 1822. Tek Sing hit a reef in the South China Sea, two degrees south of the equator, north of Java, east of Sumatra and south of Singapore. Only 198 people survived the tragic disaster. They were saved by a Captain Pearl, an ex-navy captain, who passed by the place with his ship "Indiana" two days later.

Ceramics finds
Captain Hatcher's crew discovered the wreck on 12 May 1999. Among the salvaged cargo were more than 350,000 pieces of Chinese porcelain, most of them in good condition. Many pieces are simple plates, soup bowls, cups, and condiment dishes meant for everyday use. Other items recovered were mercury, sextants, pocket watches, Chinese ink pads, iron and brass cannon, one bronze cannon, boxes with needles, pocket knives, Chinese brass padlocks, candlesticks, incense burners, telescope parts, coins.

The Ming Celadon Puzzle
Most of the porcelains are blue-white porcelain from early 19th century, manufactured in Dehua kilns in Fujian Province. Among he intriguing finds include Longquan celadon wares attributed to Mid Ming Dyansty (similar to those shown below). How did porcelain wares dated to at least 16th century ended on with a cargo of 19th century blue and white porcelain? The age difference is more than 300 years. This is indeed puzzling. It may raise question on current dating of Ming Longquan wares.
(After Note on 13 Oct 2000: Captain Hatcher gave a talk in Singapore Asian Civilisation Museum on 3 Oct 2000 in conjunction with the preview on the Tek Sing Auction in Nov 2000. During the talk, he mentioned that those longquan items were discovered above the cargo. In addition, in view of the small number of such items, it is widely believed that they were the personal belongings of the passengers. The items were probably antique brought along by passengers migrating to Batavia).


Dehua Blue and White
Dehua is an important export ceramics production centre since Song Dynasty. However, it is much associated with the famous ivory white blanc de chine wares that many people do not know that it also produce huge quantities of blue and white. According to archeological finds, it started production of blue and white since late Ming Period. However, blue and white ceramics produced were very small compared with the blanc de chine wares which were highly demanded. However, during the early Qing period from 18th/19th century, blue and white became the main production. So far, more than 200 kiln sites have been discovered. This reflected the large size of the production.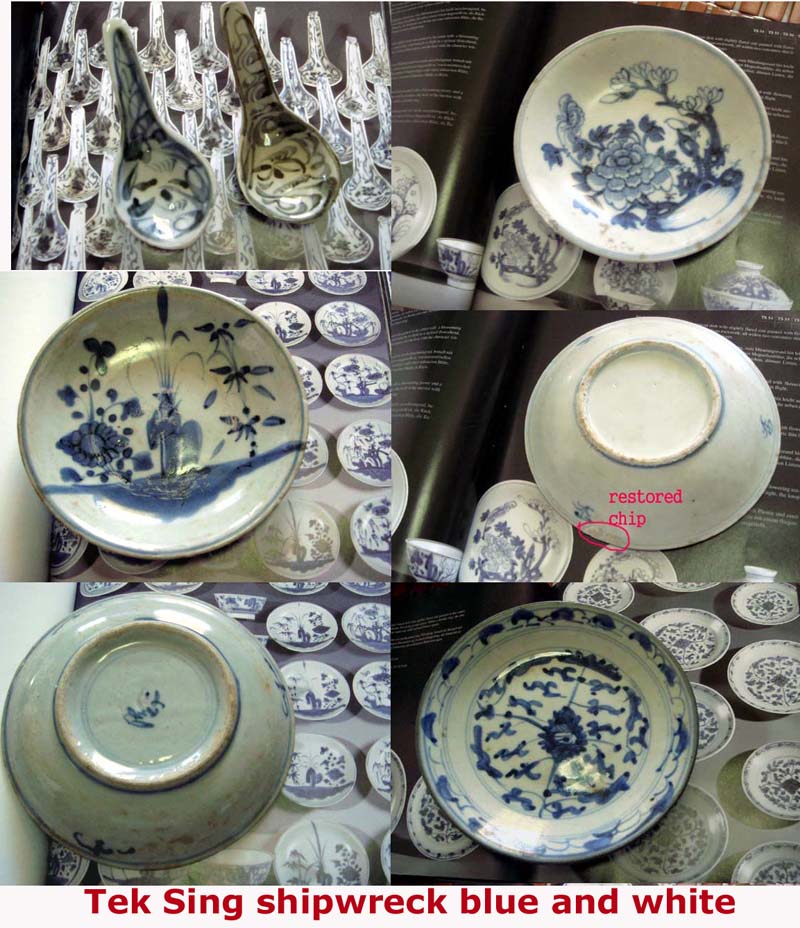 The early blue and white were much influence by the Jingdezhen product. However, by early Qing Period, Dehua blue and white were distinctly different from Jingdezen and there were wide ranging varieties of designs. The blue and white ceramics from the Tek Sing cargo clearly reflected its distinctive characteristics. Seasoned collectors is unlikely to confuse them with the Jingdezhen type. To find out more on Tek Sing blue and white, please read this.
Shards from Dehua kilns
Some of the sherds which were recovered from Dehua kilnsites are shown below for reference:


More samples .................
N K Koh : 6 Aug 2000
References:
1. 德化民窑青花 (陈建中 编著)
2. Tek Sing Treasures (Nagel Auctions)