An overview of Fujian trade Ceramics  
Fujian was a major ancient trade ceramics production centre in China. During the pre Song period, it produced mainly green glaze (celadon) wares which followed the famous Zhejiang Yue tradition. Most of the kiln sites were located in Northern Fujian (Minbei) and a scattering few in Southern Fujian (Minnan).
However, Minnan emerged as a major exporter of trade ceramics during the Southern Song period. This development was the result of the Southern Song court's strategy to promote Fujian Quanzhou as the main gateway for foreign trade. Quanzhou retained its prominent status of international port till Yuan period. The bulk of the trade ceramics consisted of green wares (celadon), white/qingbai and black wares. Besides the famous Longuan celadon and Jingdezhen Qingbai, many were products of the coastal kilns in Fujian. It owed it's good fortune to the abundance of local raw material required for ceramics production and it's proximity to Quanzhou. As a result of the competitive advantage, the Fujian ceramics producers were able to capture the overseas market for lower end ceramics. In reality, they were copies of Longquan celadon and Jingdezhen qingbai wares.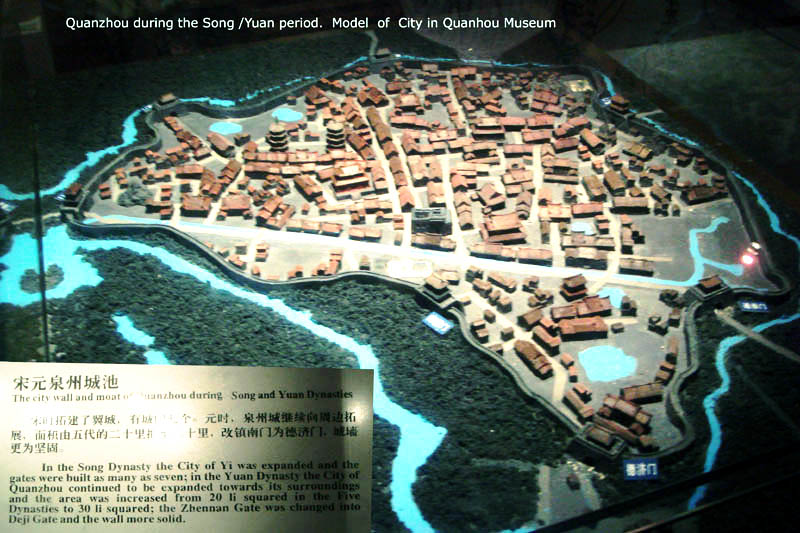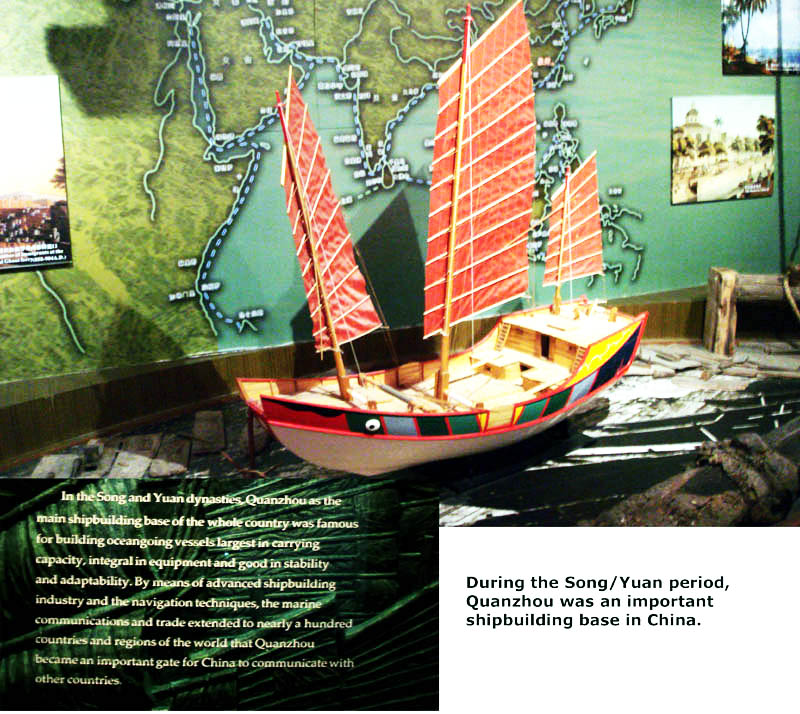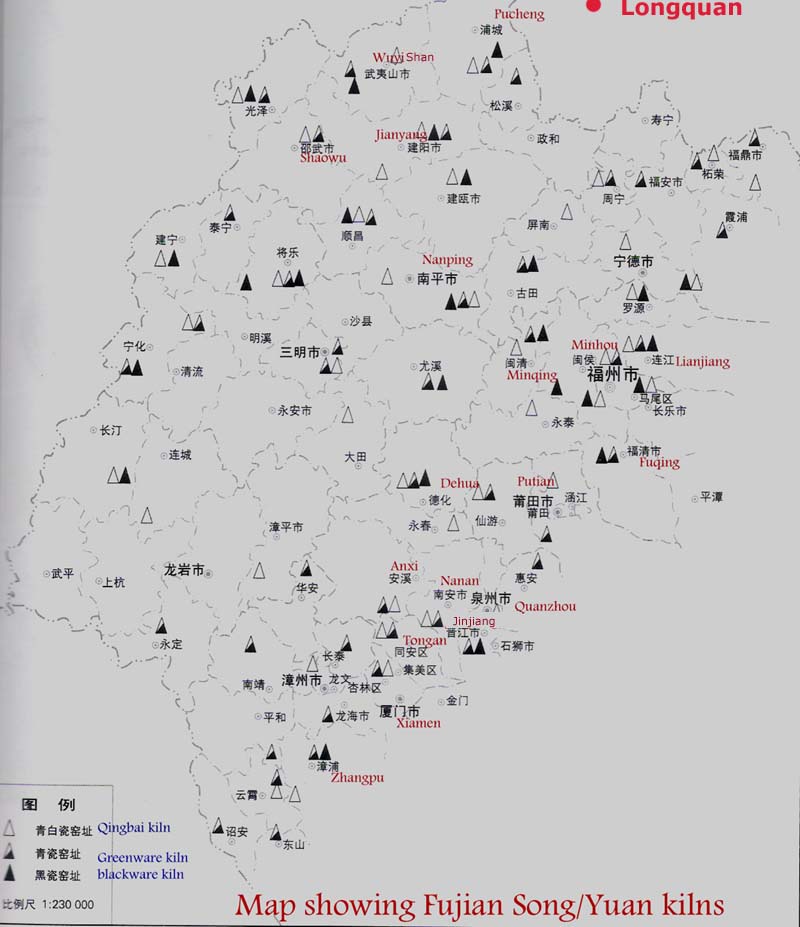 According to Song period Zhao Rugua's work "zhufanzhi" (赵汝适《诸番志》)(1225), 46 countries (including Annam, Cambodia, Srivijaya, malay peninsula, borneo, java, eastern Indies, the Philippines and even Zanzibar) were listed as China's trading partners and the Yuan period "Daoyi zhilue" by Wang Dayan ( 汪大淵 《岛夷志略》) listed at least 58 countries.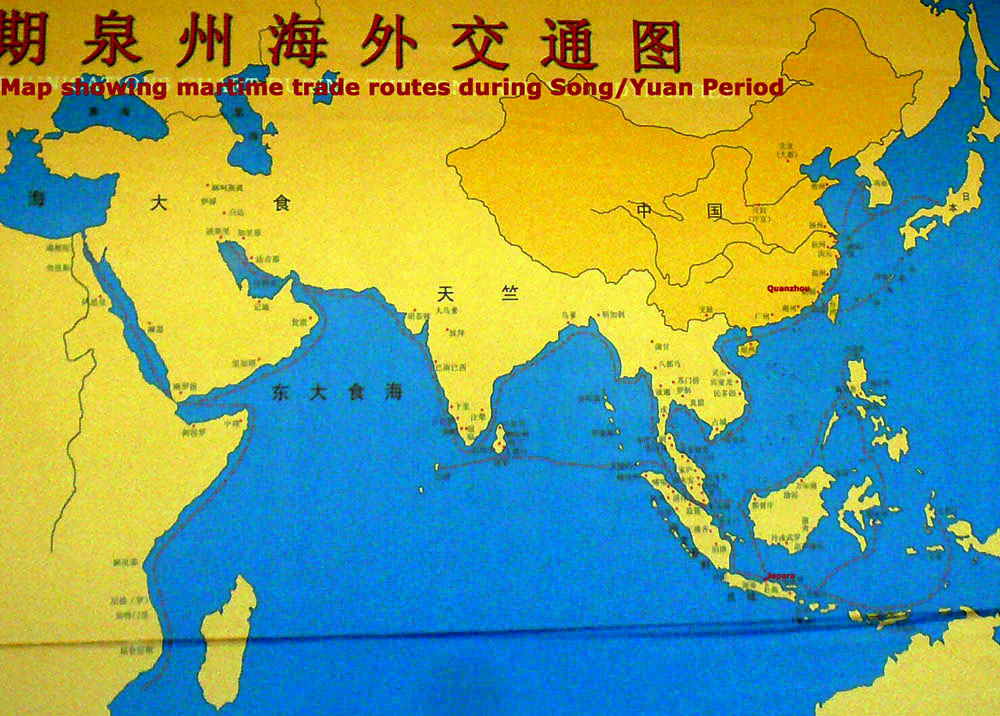 During the late Yuan/Mid Ming period, production dropped drastically. However, another peak in ceramics production emerged with the rise of Yuegang as an international trading port during the late Ming period. Zhangzhou region was able to take advantage of it's proximity to Yuegang to supply blue and white/overglaze enamelled wares commonly known as Swatow wares. It also saw the introduction of blanc de chine wares from Dehua.
The chaotic transition from Ming to Qing period resulted in the decline and finally demise of Zhangzhou wares. Kilns in Dehua and its neighbouring Yongchun/Anxi however expanded further. Besides blanc de chine, they also supplied blue and white wares. The rise of Dehua kilns is still not well understood as it is located inland and transportation involved a stretch which the cargo would need to be carried over the mountain before it reached the river system linked to Xiamen. Hence, access to the Xiamen international port was relatively less convenient. The abundance of high quality porcelainous material for production of blue and white and blanc de chine wares may have been a major reason for its success. A parallel example would be Jingdezhen.
Thanks to recent archaeological excavations and researches involving the Chinese and overseas ceramics researchers, we are now at least able to have a clearer overall understanding of the major type of export ceramics during each phase of Fujian ceramics production and the kilns that were involved in supplying them.
Ceramics in Song/Yuan Phase
Greenware (celadon)
During this Song period, the centre of production was Nanan which boasted more than 47 kilns. Together with nearby kilns such as Tongan, Anxi, Xiamen and further away such as Jinjian, Minhou, Fuqing, Putian and Lianjiang, this whole stretch of kilns produced similar green glaze products. This was the mainstream export ceramic besides the white/qingbai wares.
The most typical type was those green glazed wares with curved and combed/dotted decorations. This was commonly termed as Tongan type or Juko (shuko seiji) greenware (name after Juko (shuko) a Japanese monk tea ceremony master). In fact, this was a continuation of the Longquan tradition. Longquan kilns started producing such wares around Mid/late Northern Song period. Similar types were produced also in Northern Fujian kilns mainly for domestic consumption. The colour tone is varied ranging from olive green to different degree of yellow. In comparison with the Longquan version, the quality was less refined and for most pieces the outer lower portion of the bowls were left unglazed. For the Lonquan version, only the outer base was left unglazed. The Fujian kilns produced such type latest by late Northern Song and continued to produce them till early/Mid Southern Song period. Such curved/combined wares were found in the Jepara shipwreck in Indonesia. In this wreck, there were also Dehua white wares which could be dated to Early Southern Song period.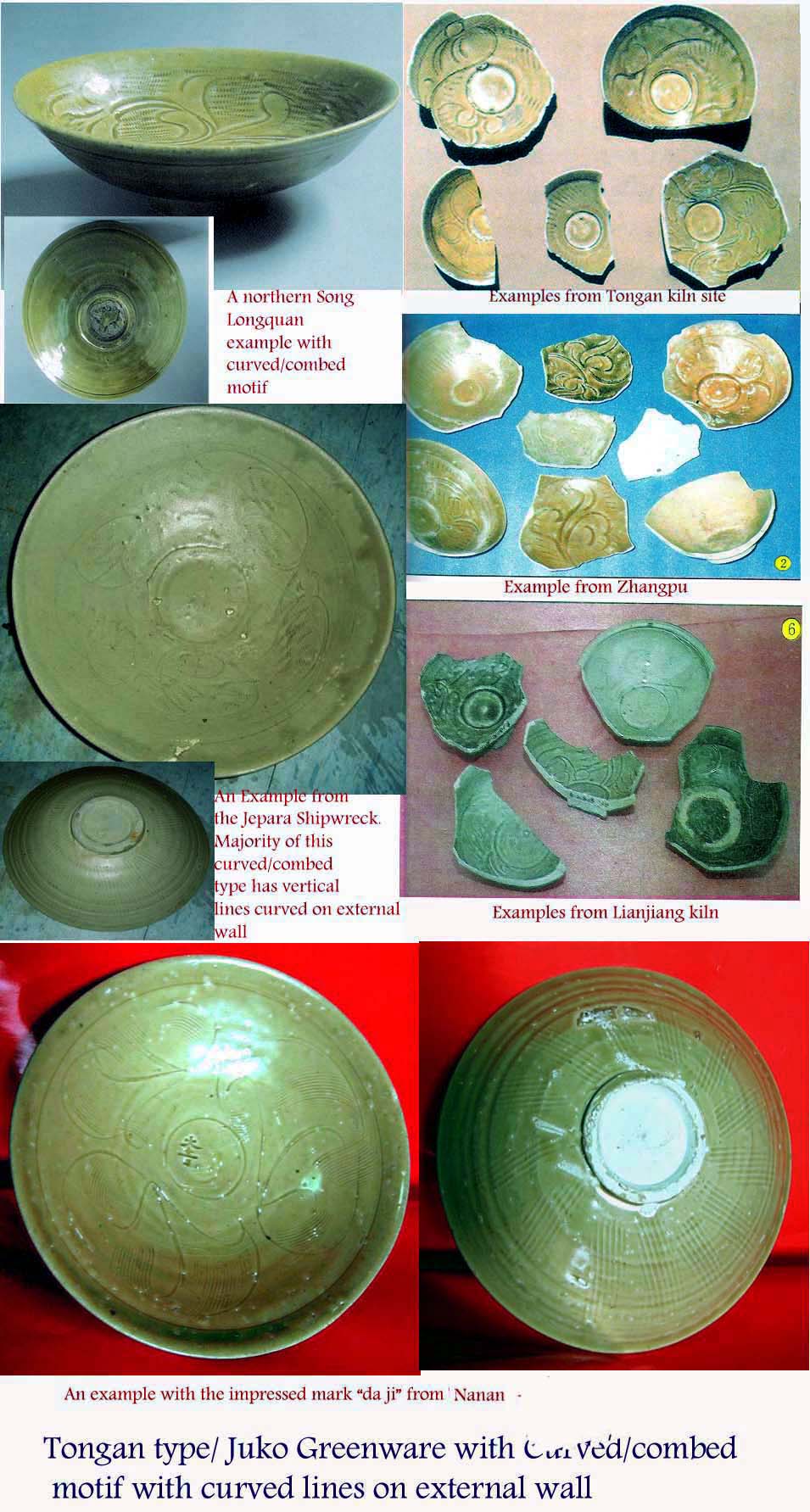 Another common type of bowls has curved floral/cloud or abstract motif on the interior. Again it was not a Fujian creation but copy of the Longquan type. This type was first introduced earliest by late Northern Song and gained popularity especially during the early Southern Song period. Those with curved lines on external wall were introduced earlier as compared with those with plain external wall. There were also substantial amount of plain bowls without any decoration.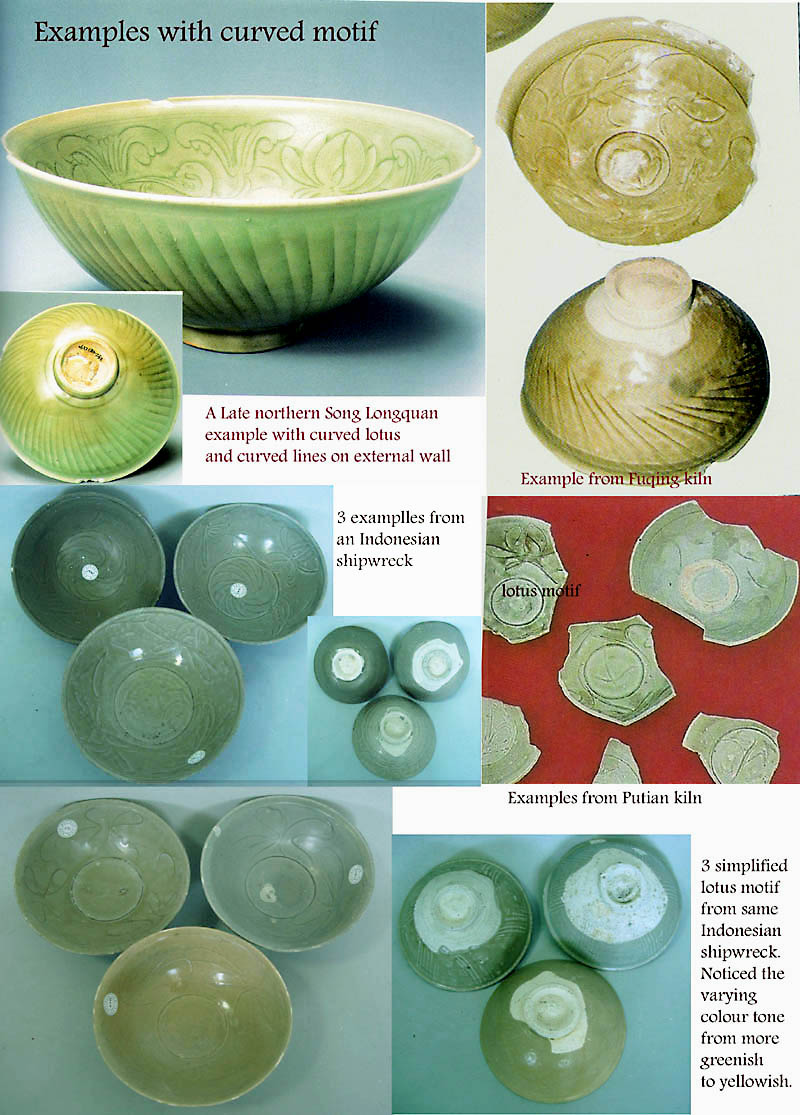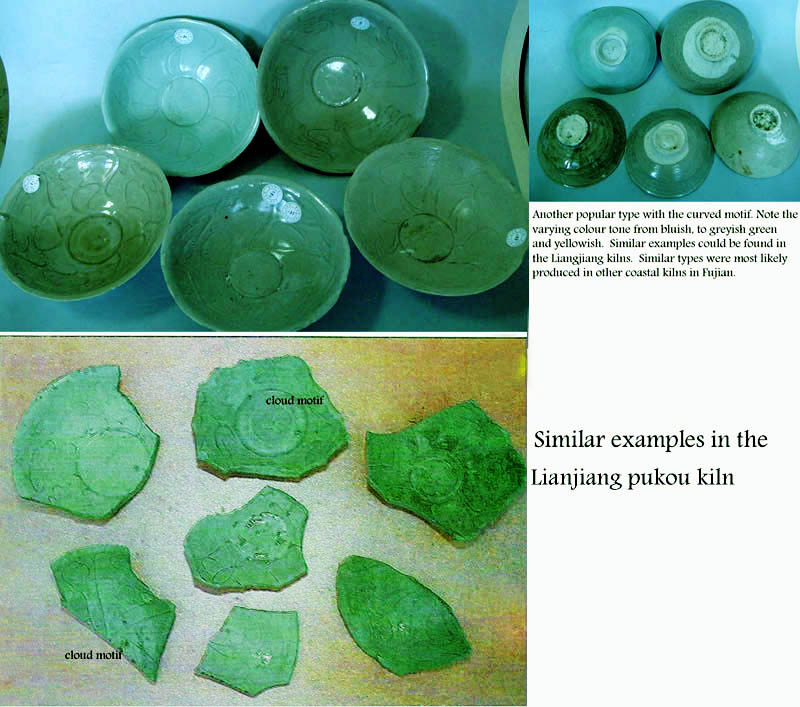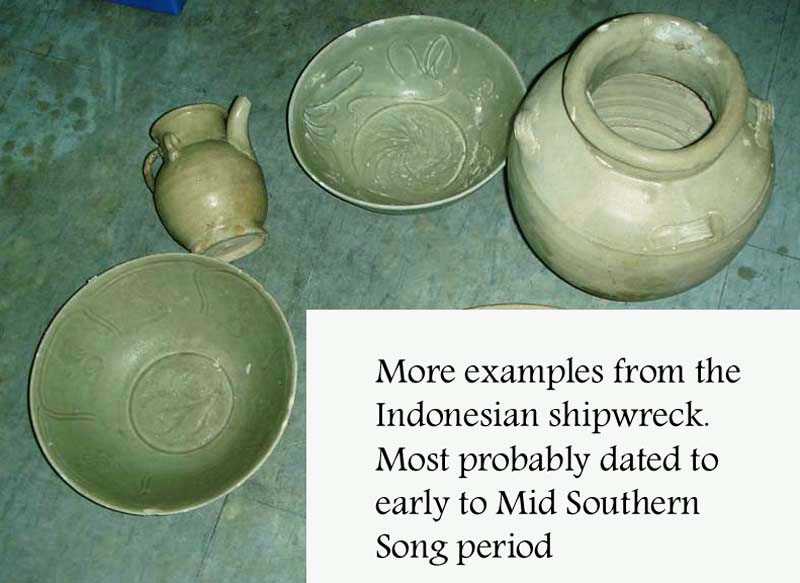 During the Yuan period, green glaze wares continued to be produced but there is a noticeable drop in the quality and export volume. Longquan and Jingdezhen became formidable competitors which supplied better quality export ceramics such as celadon, white/qingbai/shufu and blue and white wares.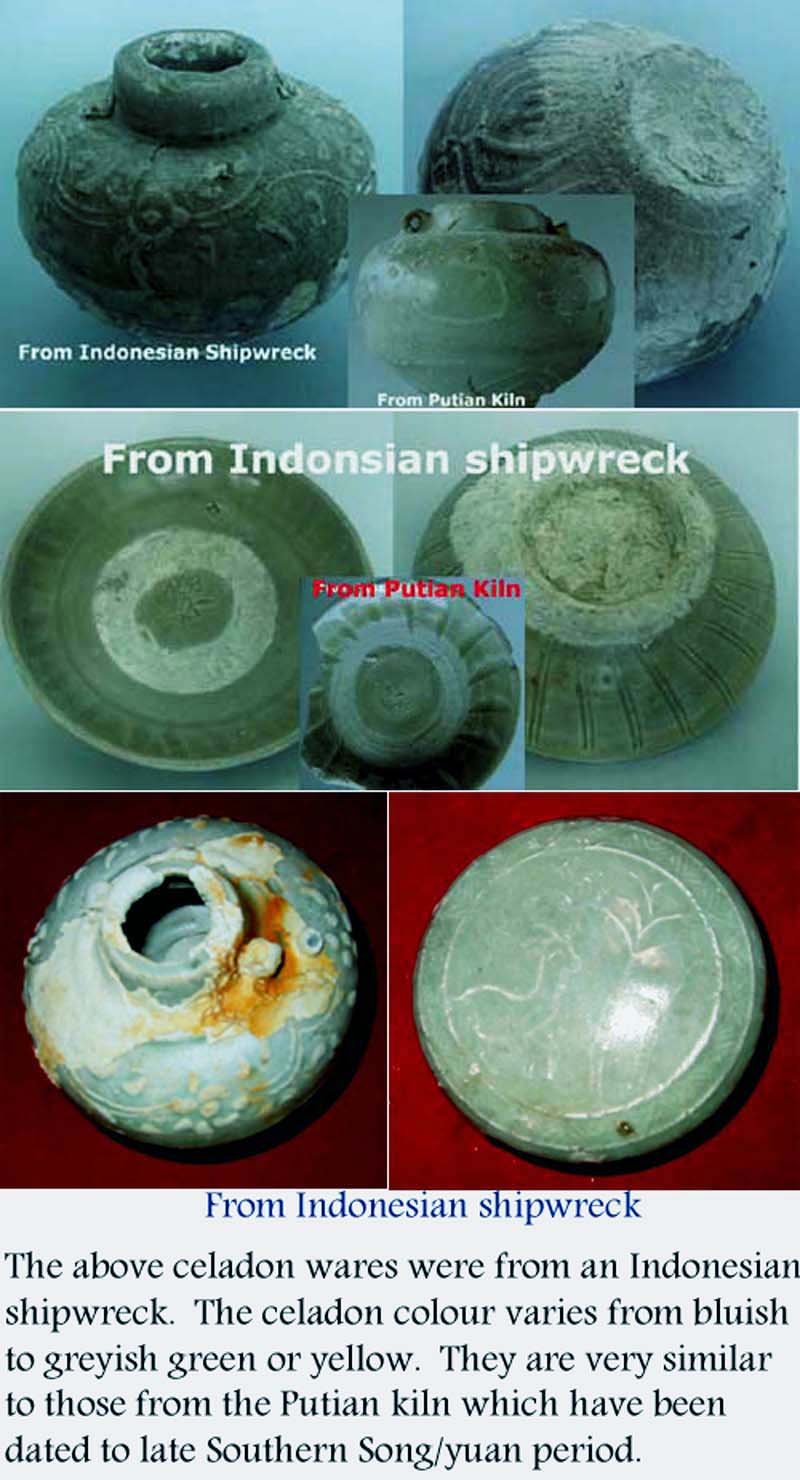 White/qingbai wares
More well-known than the green wares are the white/qingbai wares with colour from bluish white to white/yellowish white. The main production center was Dehua. The white/Qingbai wares emerged as a mainstream export products later than the greenwares. Together with the greenwares, they were the main export items during the Song/Yuan period. The oldest dehua kiln at Dehua Wanpinglun (盖德碗坪崙)possibly dated to the late Northern Song period. Those kilns at Qudougong (屈斗宫)started production during the late Southern Song period The most common export dehua products were dishes ,boxues, vases and kendis. Another notable white/qingbai production site was Nanan. There were many other coastal kilns that also produced white/qingbai wares but they were relatively of poorer quality. The Nanhai 1 shipwreck carried a substantial quantity of Qingbai/white wares from Dehua.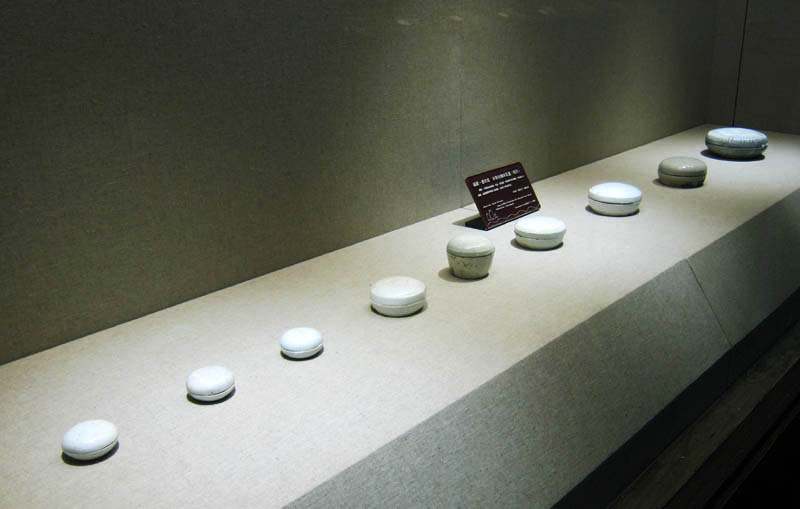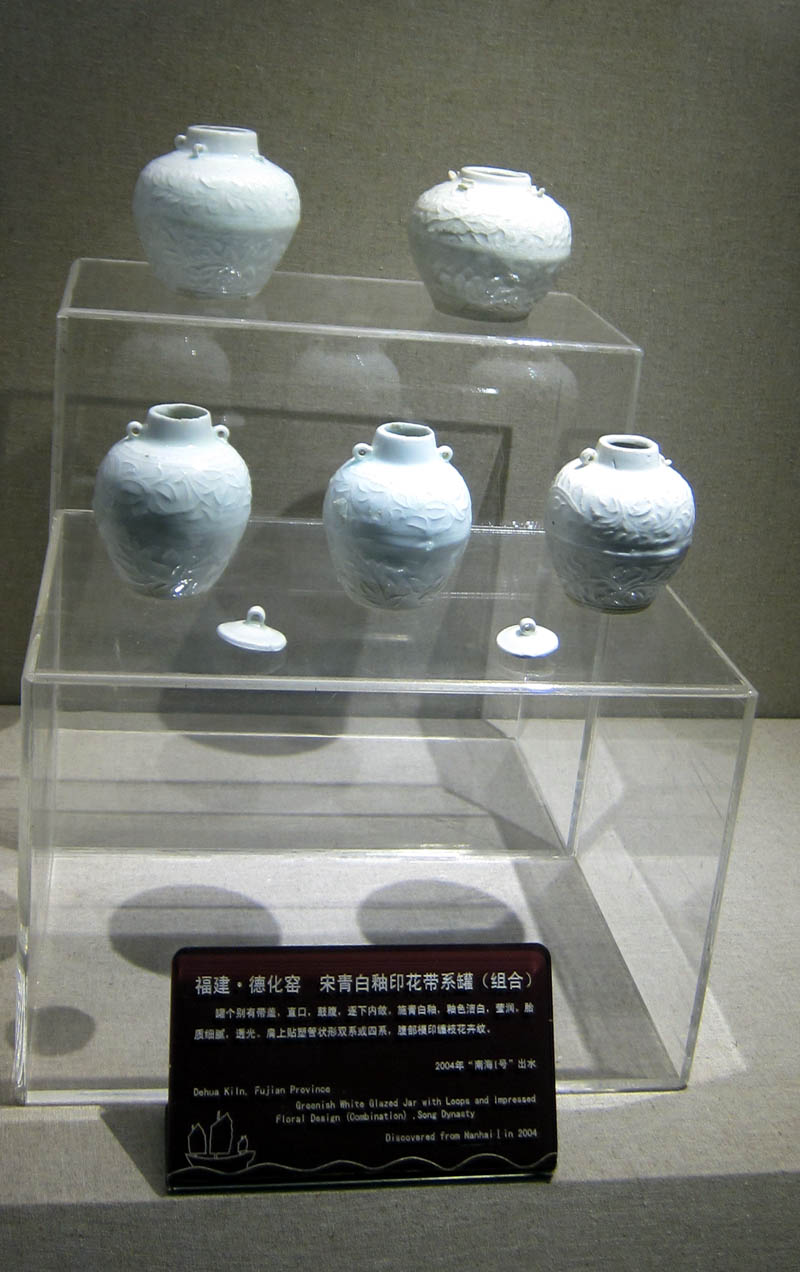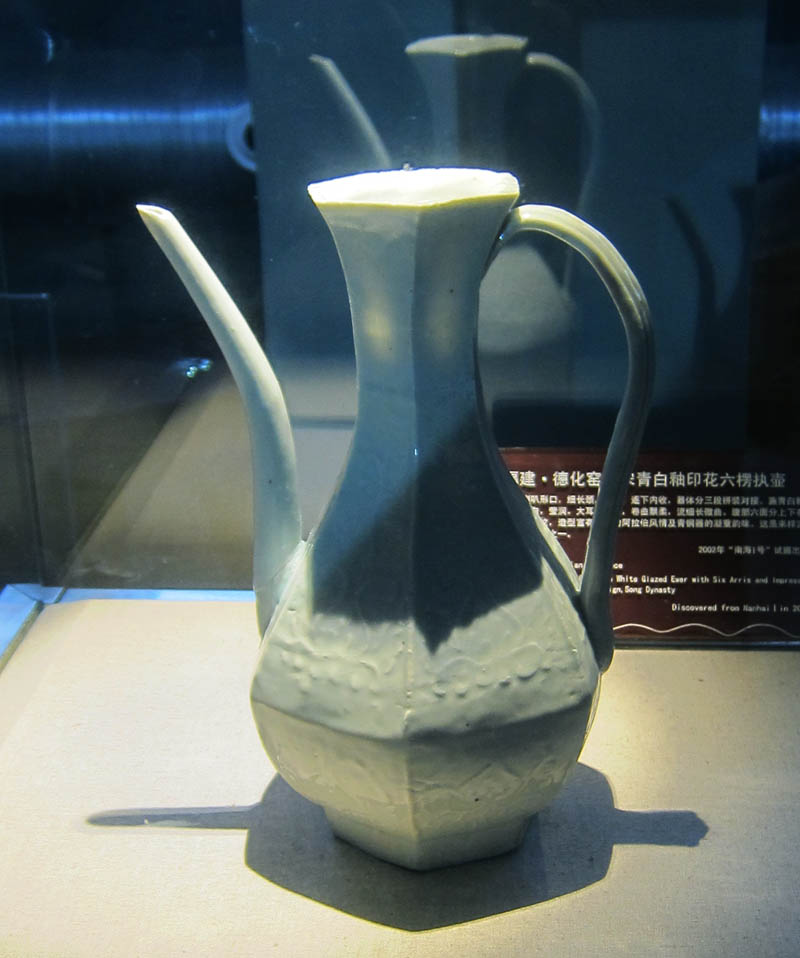 Dehua Qingbai/white wares from Nanhai 1 shipwreck
The colour tone of some of the Fujian wares is rather hard to classify. Strictly speaking they should still be classified as white ware despite showing varying degree of yellow or gray tinge. There are some which may even be confused as light yellowish greenwares. The varying colour was the result of the unstable firing atmosphere in the dragon kilns rather than difference in glaze formula. .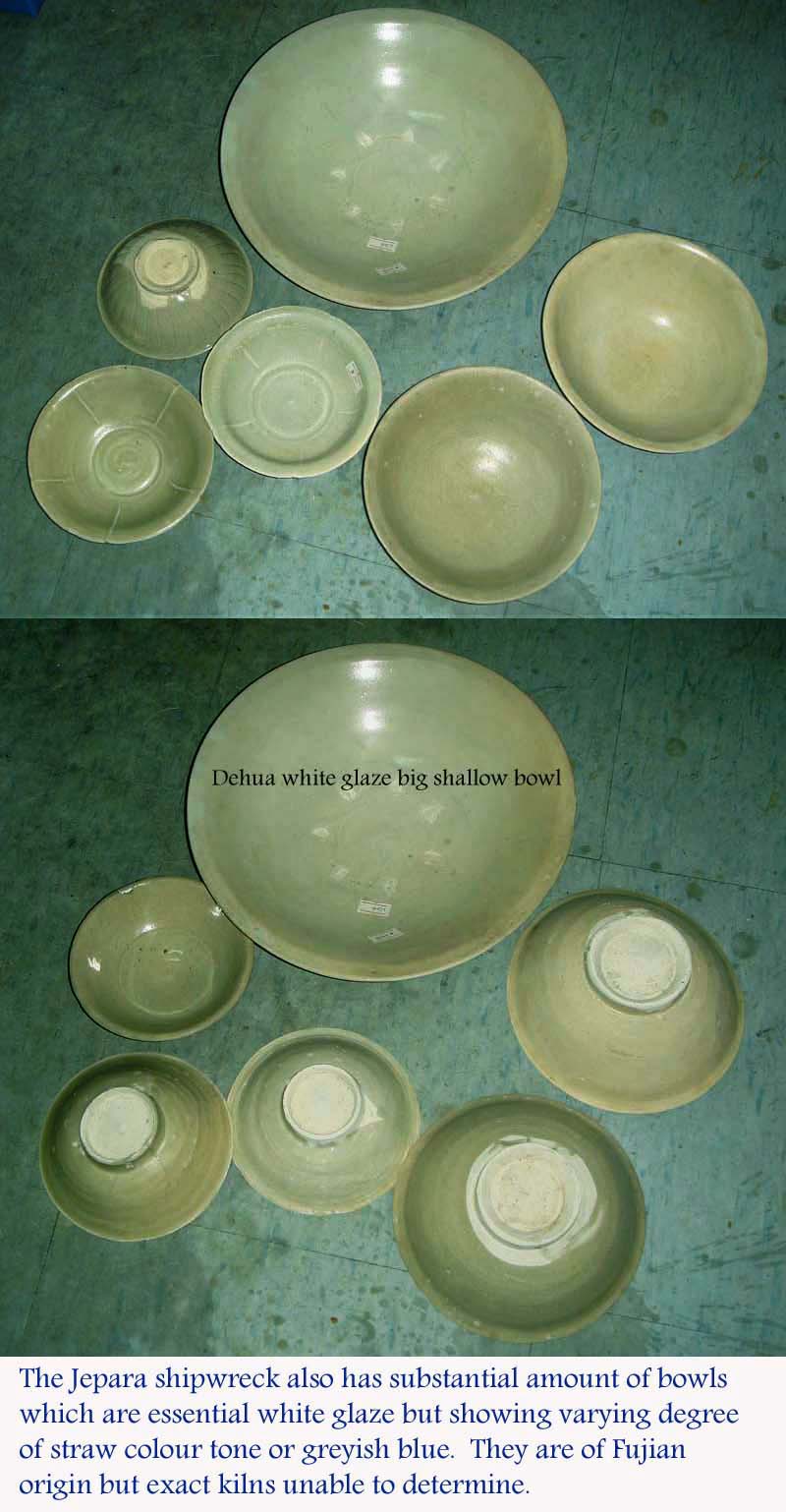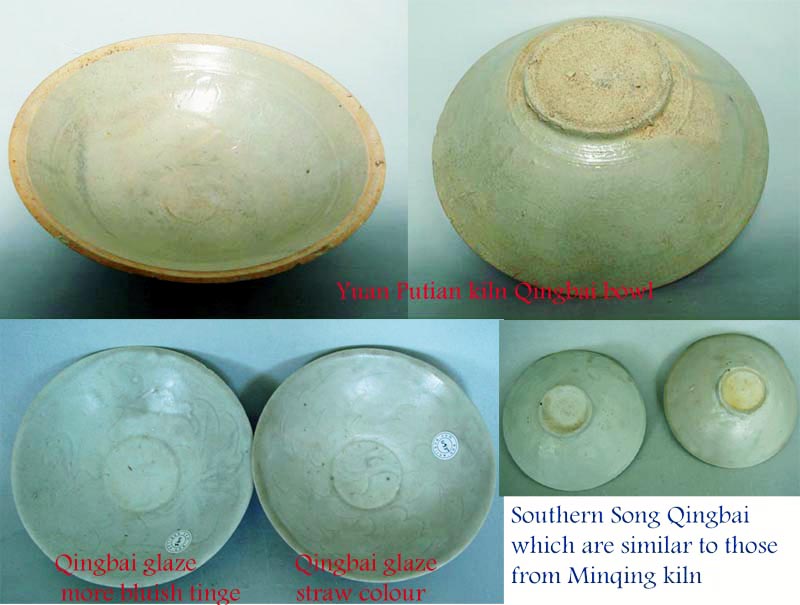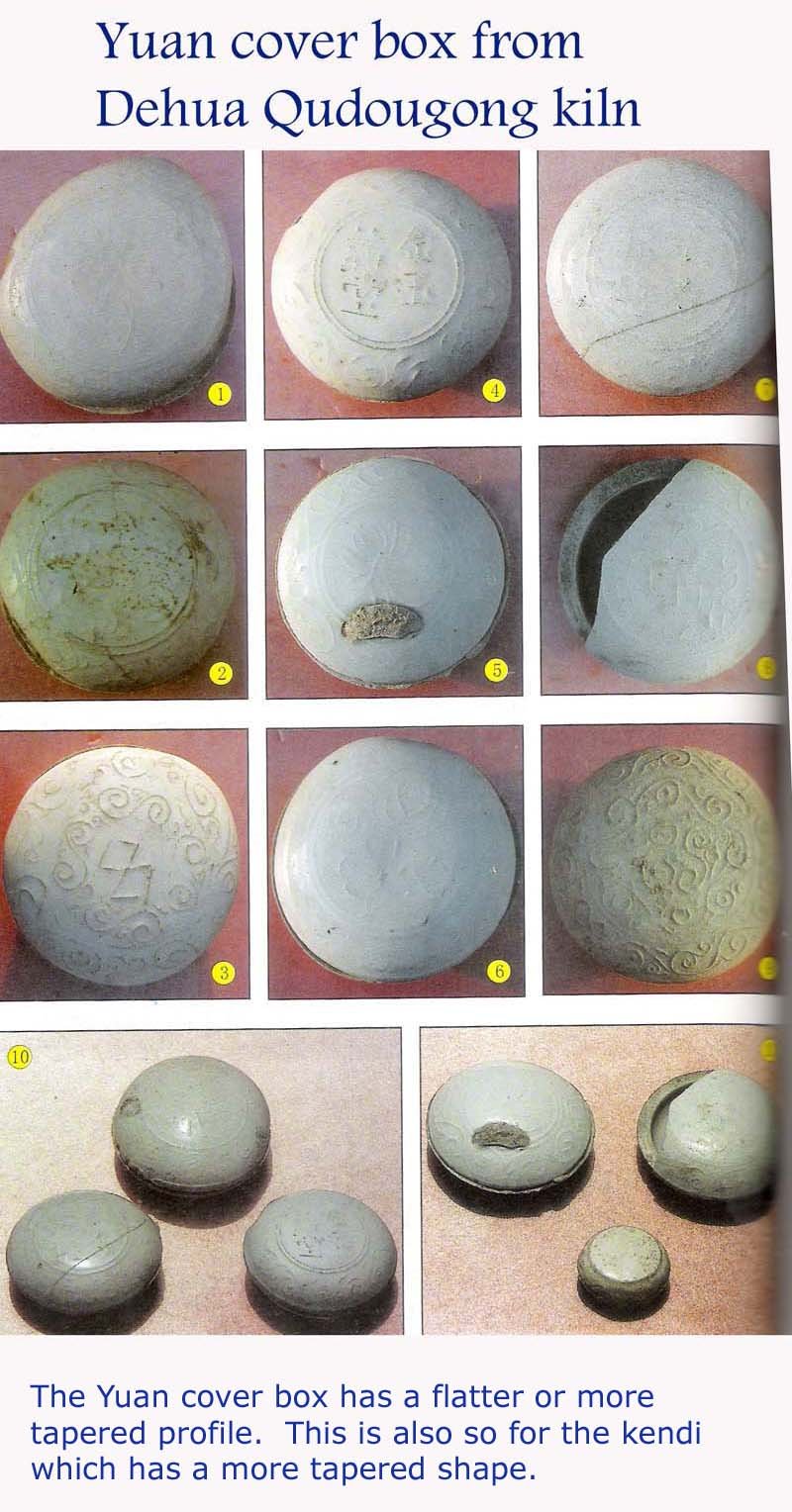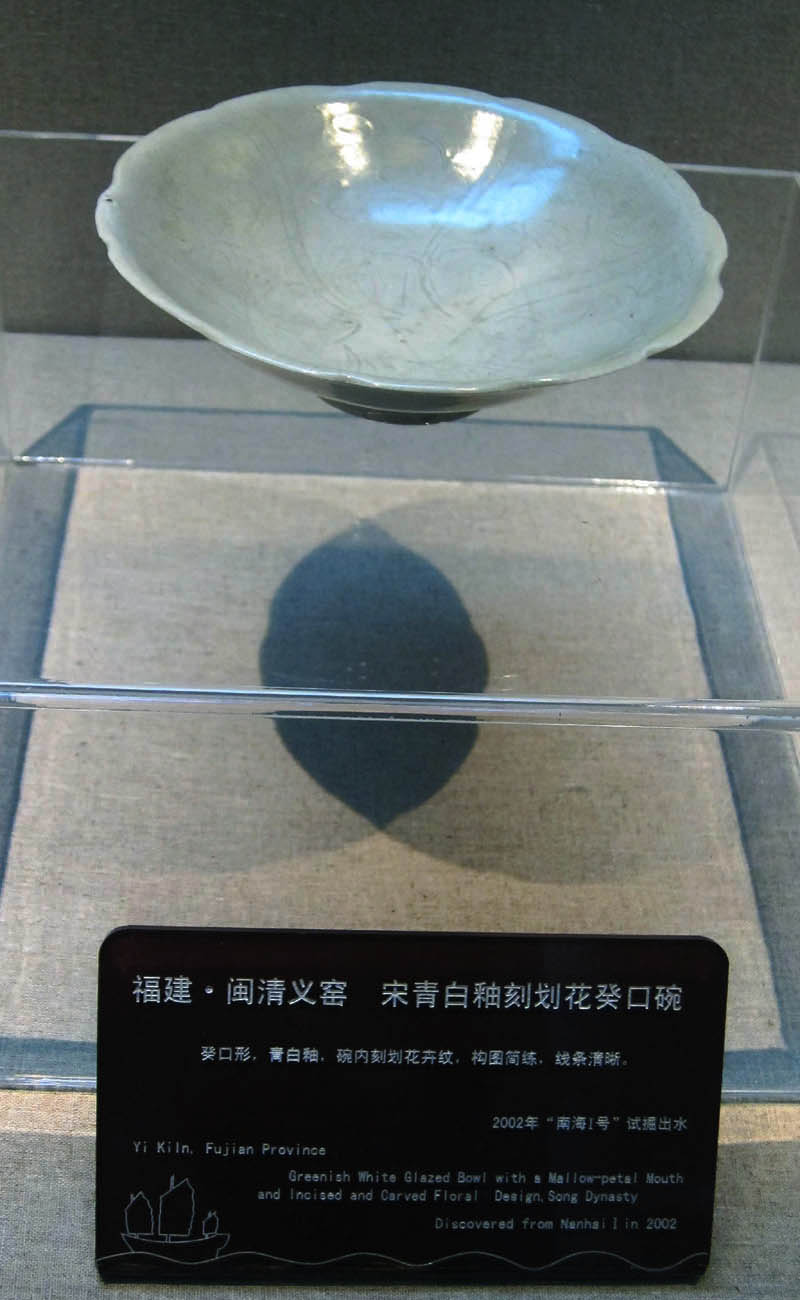 A Mingqing Yi kiln greyish straw colour bowl with carved motif from the Nanhai 1 wreck
Black (Temmoku) wares
Archaeological evidence clearly showed that black glazed wares were produced later than the green glazed wares. Archaeological excavation also showed that some Fujian kilns made greenwares together with the black wares. Some key examples were kiln sites in Fuqing, Jianyang and Jinjiang areas.
The most famous of the black temmoku wares were those from Jianyang. They were highly praised and treasured by the tea connoisseurs. For more on Jian wares, please read this. There was also substantial overseas demands and coastal kilns such as those in Fuqing and Minhou were major exporters. Visually they were different from Jianyang temmoku bowls. Majority have a light grayish paste and the glaze is not as thick/glossy and the hares' fur effects are not as attractive. For more information on Fujian temmoku wares, please read: Lianjiang shipwreck Fujian temmoku bowls.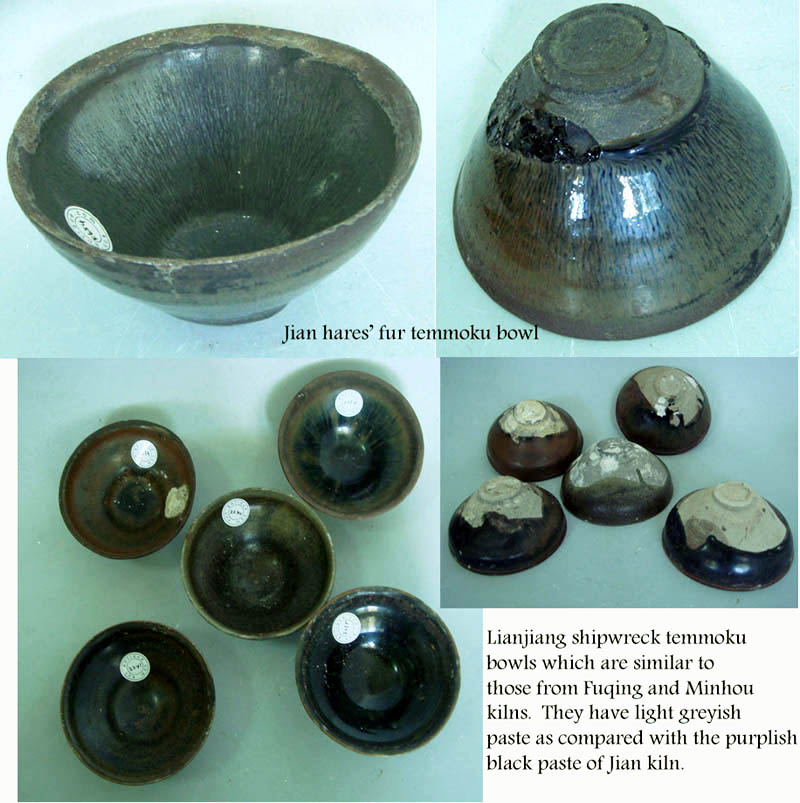 Lead-glaze wares
Besides the usual celadon and brown/black wares, a distinctive category of products were made at Cizao kilns in Jinjiang. They have lead coloured glazes which were applied onto kendi, censers, basins, plates, jars, ewers. The kendis were specifically made for the Southeast Asian markets. Another unique type was the black glaze wares with curved motif which exposed the paste.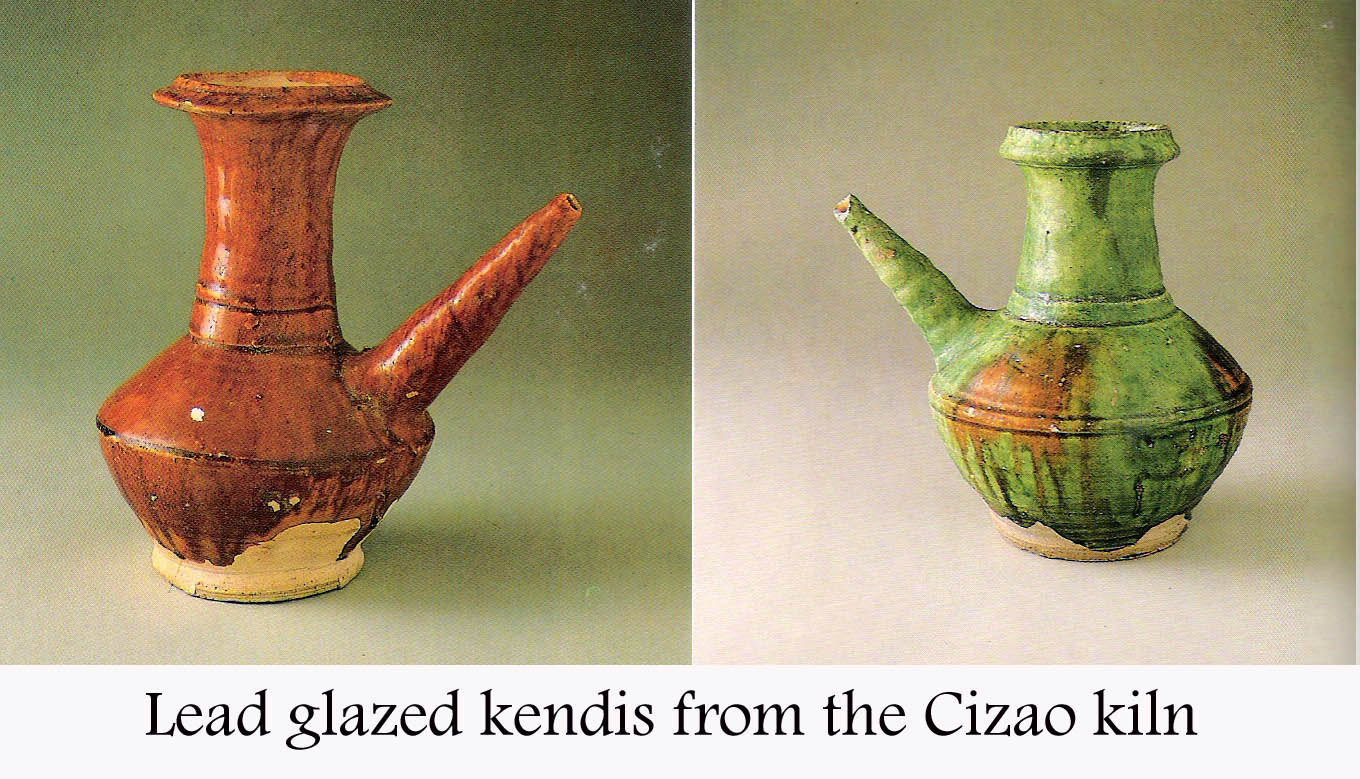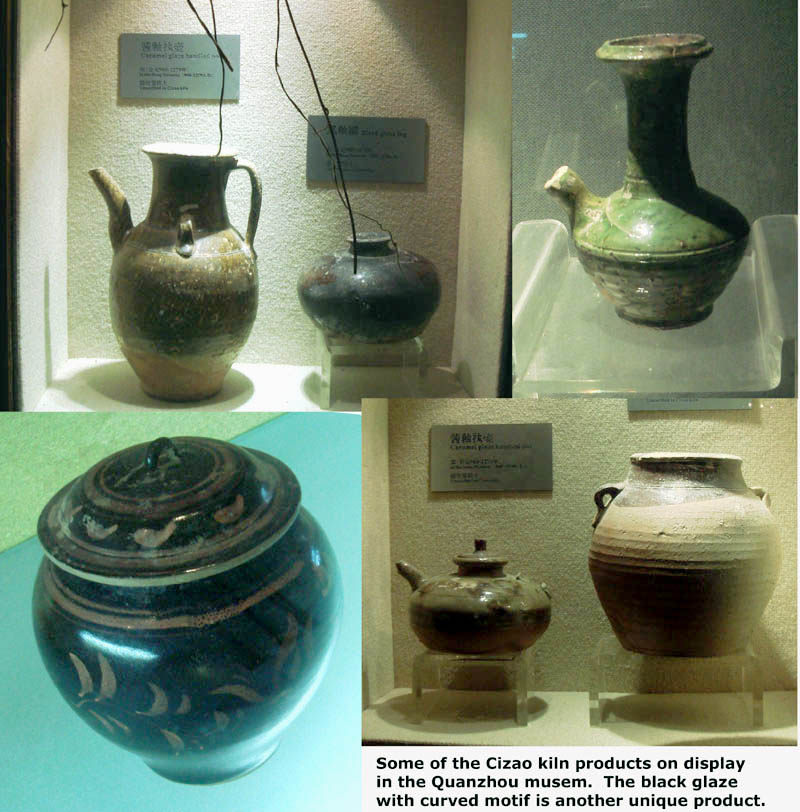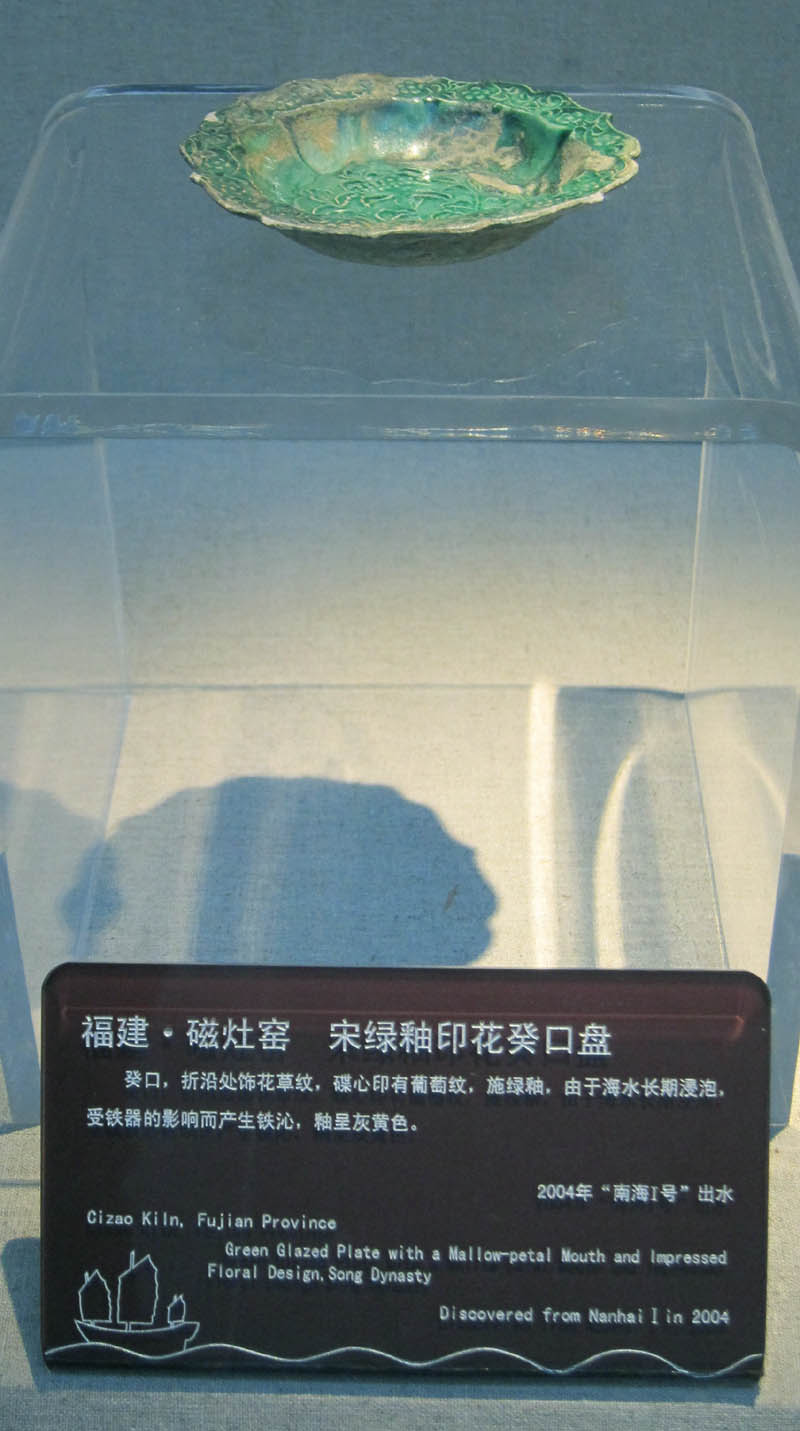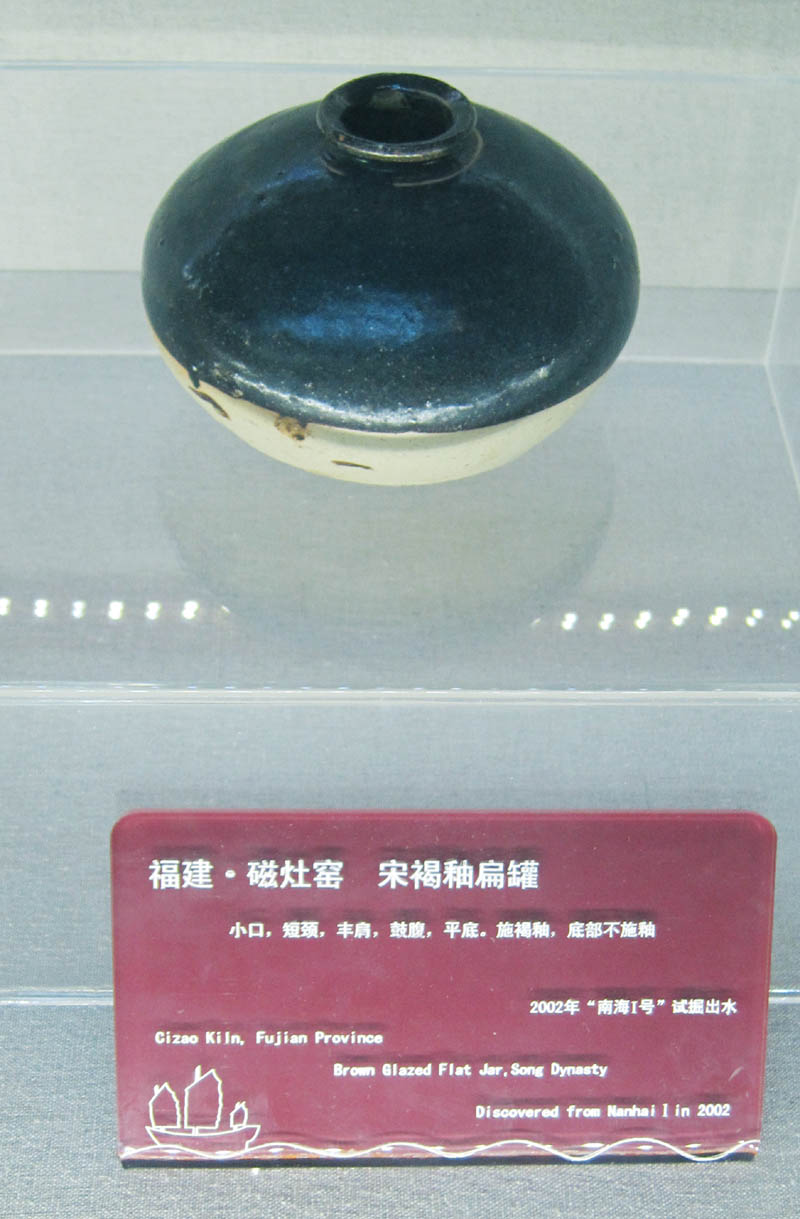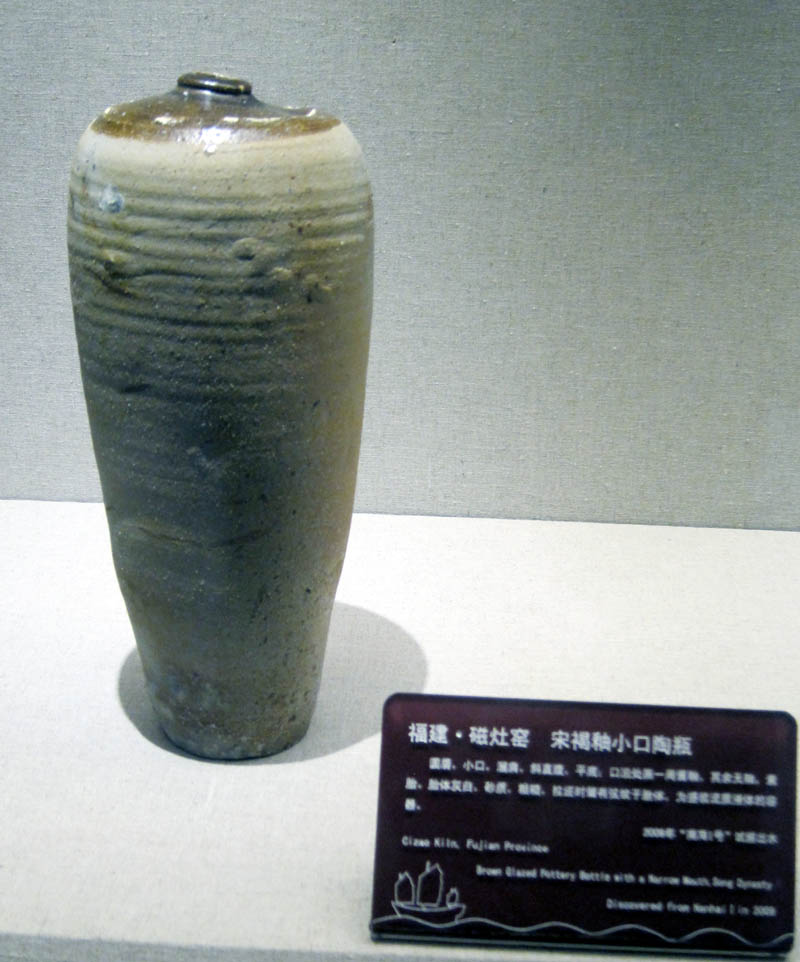 Ceramics in Ming Phase
Swatow (Zhangzhou) blue and white
Following a lull in the production from late Yuan to Mid Ming, a distinctive group of Blue and whites and overglaze enamelled wares were produced in the Zhangzhou region. They were characterised by the gritty base. The main market was Southeast Asia but smaller quantity were also found in west asia and as far as East coast of Africa. For more details on the rise of Zhangzhou kilns and the products produced, please read : A General survey of Swatow (Zhangzhou) wares .
An important shipwreck consisting of mainly Zhangzhou late Ming blue and white was discovered near Binh Thuan in Cemtral Vietnam. For more on Binh Thuan shipwreck, please read: Binh Thuan Shipwreck (Swatow) Zhangzhou blue and white .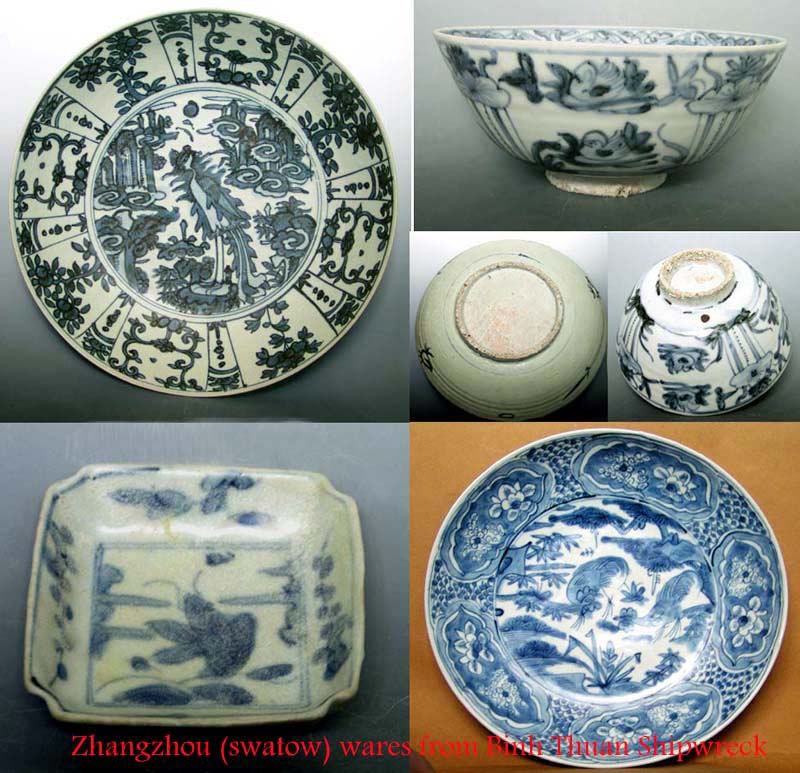 Dehua Blanc de chine wares
During the late Ming period, Dehua exported a large varieties of white wares,: cups, censers, gu-vases, ewers, bowls, large plates, lamp, seated lions, figurines. Blanc de chine wares have a silky ivory white tone and the porcelain is translucent. In these aspects, they were different from the early Dehua wares with the white/bluish white/yellowish white glaze. Dehua potters introduced the blanc de chine wares during the 16th century firstly mainly for the Southeast Asian market. During the 17th/18th century, many Dehua blanc de chine were exported to Europe. Dehua ivory colour tone blanc de chine attracted considerable favourable responses in Europe and were widely collected by royal families and nobles.
Those from the Early Qing period still retained the ivory tinge glaze but the later Qing pieces became a less attractive more grayish white tone.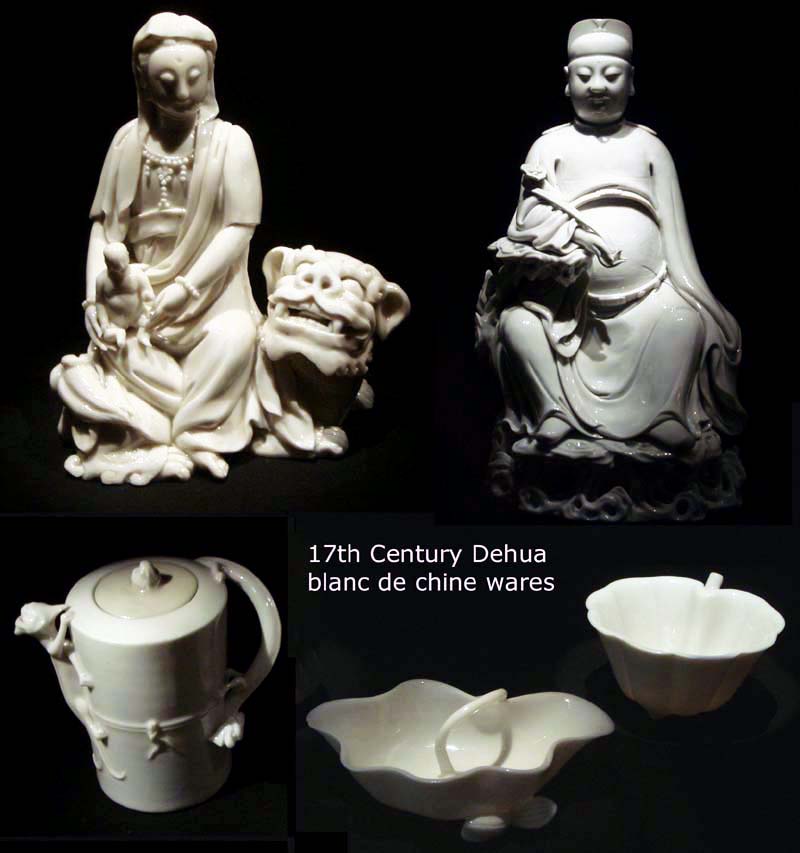 Ceramics in Qing Phase
Dehua blue and white
According to archeological finds, Dehua started production of blue and white since late Ming Period. However, blue and white ceramics produced were probably very small compared with the blanc de chine wares. But from Qing Kangxi the production of blue and white increased. During the 18th/19th century, blue and white became the main production item. In fact, so far, more than 200 kilnsites producing blue and white have been discovered. The neighouring kilns in Yongchung and Anxi also produced similar types which are hard to distinguish from those Dehua products. However, generally the Dehua products were of better quality. For more, please read : Dehua blue and white.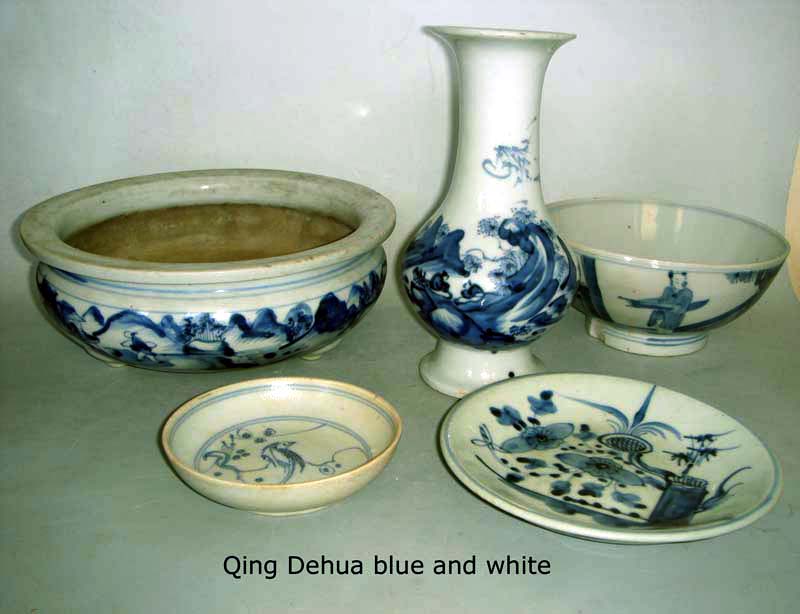 In 1999, Tek Sing cargo which consisted of more than 350,000 mainly Qing Daoguang Dehua/Yongchung/Anxi blue and whites were recovered. The size of the blue and white is an indication of the popularity of the wares. For more on Tek Sing cargo and information on Dehua blue and white, please read: Tek Sing shipwreck (Dehua) blue and white.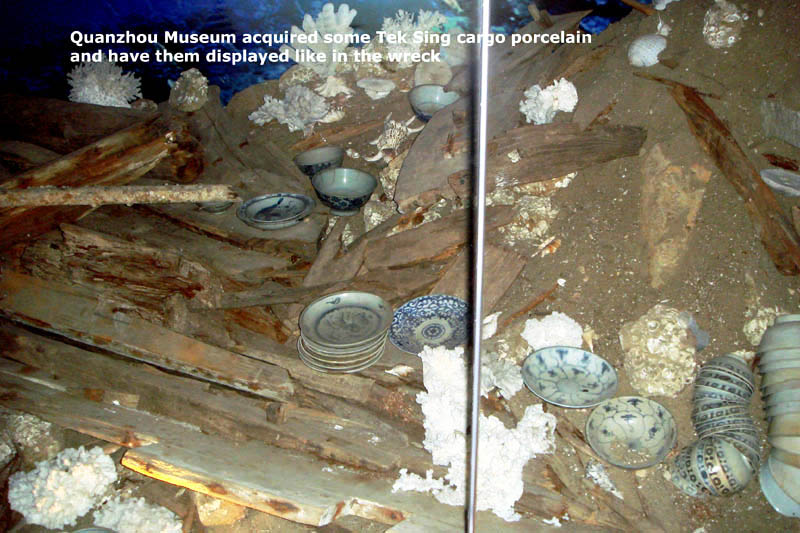 Written by NK Koh (22 Jun 2008)
References:
1. The Jepara Wreck by Atma Djuana and Edmund Edwards Mckinnon
2. Chronology of Longquan Wares of the Song and Yuan Period by Kamei Meitoku. Article published in the book "New Light on Chinese Yue and Longquan wares" edited by Chumei Ho.
3. 福建陶瓷考古概论 (曾凡著)
4. 德化窑 published by Dehua Museum