Yuan Blue and white
On 12 Jul 2005, a Yuan blue and white jar depicting scene from an episode during the Warring states was sold by Christies for a record sum of US$27.7 million for Chinese work of art.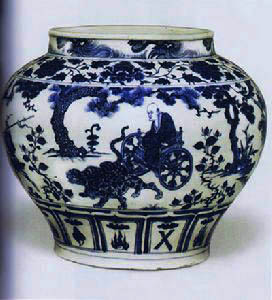 Yuan jar sold by Christies for record sum of US$27.7 million
This is indeed a dramatic change of fortune for Yuan Blue and white wares considering that little was known about them prior to A.D 1950. Before A.D 1950 RL Hobson had in A.D 1929 highlighted a pair of Yuan vases in the Percival David Foundation in his writings. But it did not raise much interest. The pioneering work in the identification of Yuan blue and white was done in A.D 1952 by Dr John Pope. He identified a group of Yuan blue and white in the Istanbul Topkapi Museum and the Iran Ardebil Shrine which possesses motifs which are stylistically similar to those on the pair of David Vases. The pair of vases was a donation to the temple by a devotee named Zhang Wenjin (张文进)seeking blessings for his family. This is mentioned in the inscription on the neck of the vases. It also has a date Zhi Zheng (至正)11th year, ie A.D 1351. Blue and white wares which are stylistically similar to the David vases are termed Zhi Zheng type.
The pair of vases was last placed in the Bejing Zhihua (智化)Temple but smuggled out of China in 1929 to Europe by a overseas chinese. It subsequently ended up in the possession of Sir Percival David.
Subsequently, a pair of qingbai glaze pagoda-shaped vases with simple floral scrolls dated to Yuanyou (元祐) 6th year (A.D. 1319) was excavated in Hubei. It was initially thought to be decorated with a grayish cobalt blue. As the execution of the motif looks experimental and lacks the sophistication and maturity of the Zhi Zheng type blue and white, the Chinese experts viewed them as early Yuan Blue and white and termed them Yuanyou type. However, scientific test in Mar 2009 by the Shanghai Museum on one of the vases confirmed that the colorant used is iron oxide and not cobalt.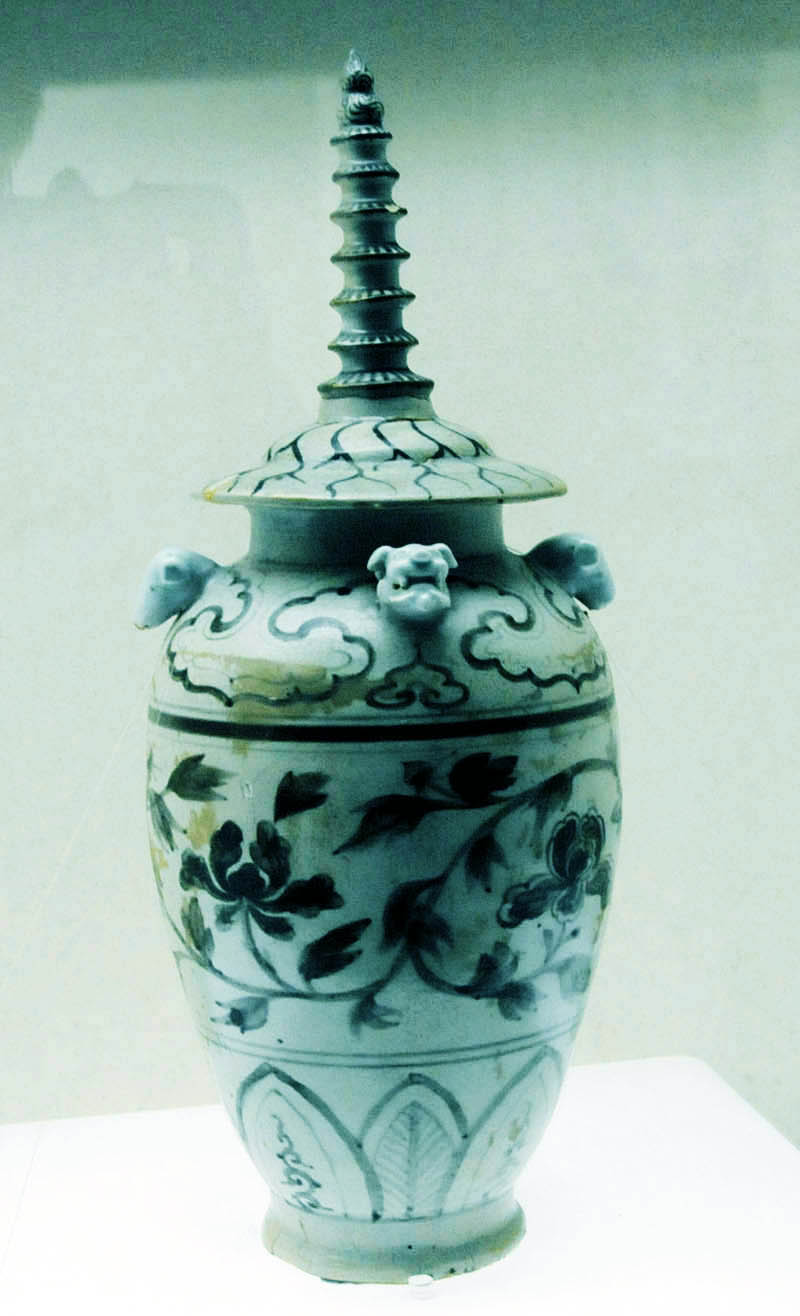 The Yuan You vase datd 1319 A.D in Hubei Museum. Initially thought to be decorated with cobalt. Decorated with iron oxide pigment.
David vase dated 1359 A.D
Kiln and Production Commencement Date
Although the colorant of the pagoda shaped vase dated A.D 1319 is not cobalt, the motifs (such as the peony, the plantain leaves and collar-shaped cloud on the shoulder of the vase) and multi-layered composition showed stylistic similarity with the subsequent blue and white. So, when did the Jingdezhen potters started using cobalt for decoration?
Some of the early Chinese writings related to ceramics may shed some lights. In Jiangqi's (蒋祈)writings Taoji (陶记) widely regarded as written between A.D 1322 - 1325, there was no mention of blue and white. However,Wang Da Yuan (汪大渊), in his work Dao Yi Zhi lue (岛夷志略)which recorded his observations during his trips to Southeast Asia between A.D 1330 to 1339, he mentioned a group of exported porcelain termed Qingbai hua ci (青白花瓷). This could be literally interpreted as motif in blue and white. It is more likely a reference to Blue and white and not qingbai wares.
So far, no Yuan blue and white from shipwreck or excavation has a dating earlier than A.D 1330. In the Sinan shipwreck dated about A.D 1325, there were some shufu, iron-oxide decorated wares and a plate decorated with copper red calligraphy from Jingdezhen. But no blue and white was found.
Kiln sites producing Yuan blue and white have been found in several sites in Jingdezhen and Hutian. In Hutian, kiln sites located south of the river Nan were found to specialise in the production of large vessels, such as large plates, jars and vases, with mulit-layered motifs which were mainly found in Middle East collections. Kiln sites located north of the river were found to produce those small vessels such as jarlet, bowls and dishes with simple motif, which were commonly found in Philippines and Indonesia. The stratification of the kiln site, located South of the river Nan, showed the blue and white layer above the layer of shufu glaze vessels. Although the actual date of production of the blue and white could not be ascertained, they definitely made their appearance later than the shufu glaze vessels.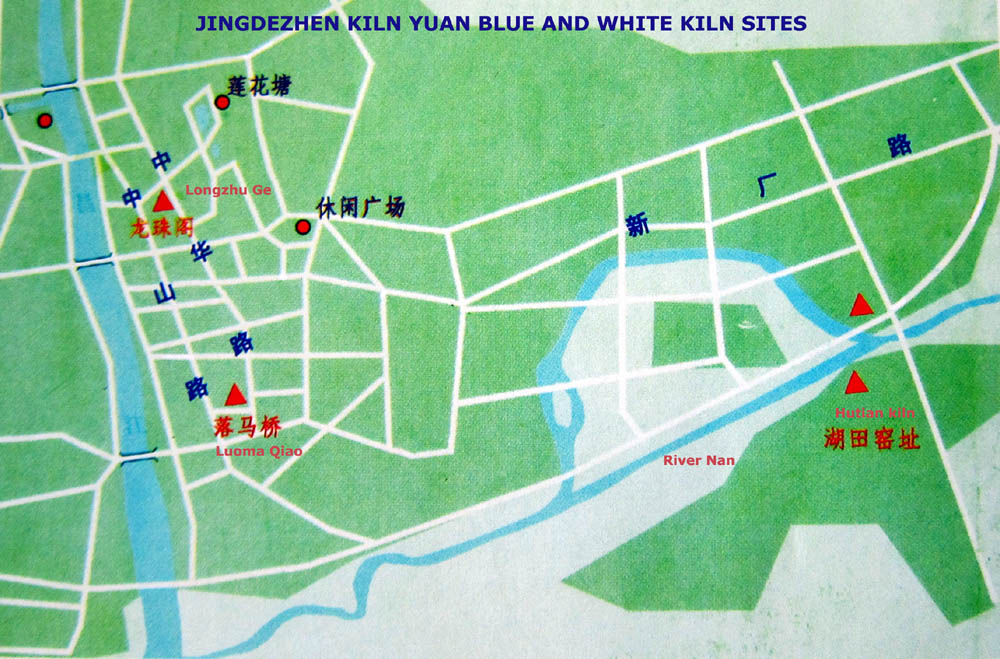 In Jingdezhen, the site at Luoma Qiao (落马桥) were found to produce a large variety of vessels form such as including plates, cups, vases, jars and figurines. There were also vessels such as jar, Yuhuchun vase decorated with underglaze copper red motifs. A fragment of small bowl with overglaze red/green motif was also recovered.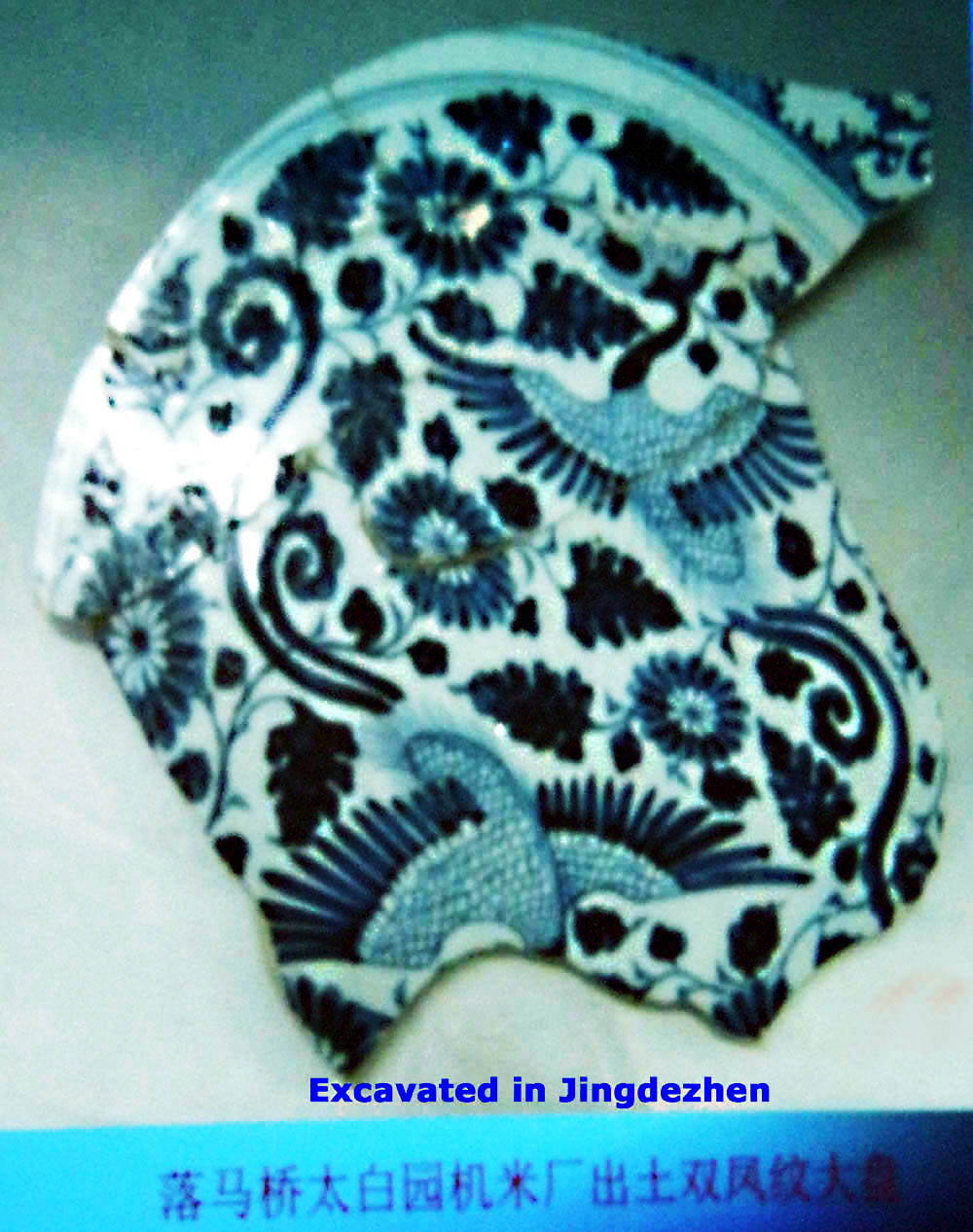 Fragments recovered from Jingdezhen Luoma Qiao
The site at Zhushan specialised in producing vessels, such as cover jars and weiqi boxes for the palace. Dragons decorated on the jars were found to have 5 claws which was only permitted for imperial use. Some of the vessels were glazed in blue or turquoise and decorated with gold motif. In Yuan Dianzhang (元典章), it was decreed that the use of gold gild was prohibited by common folks.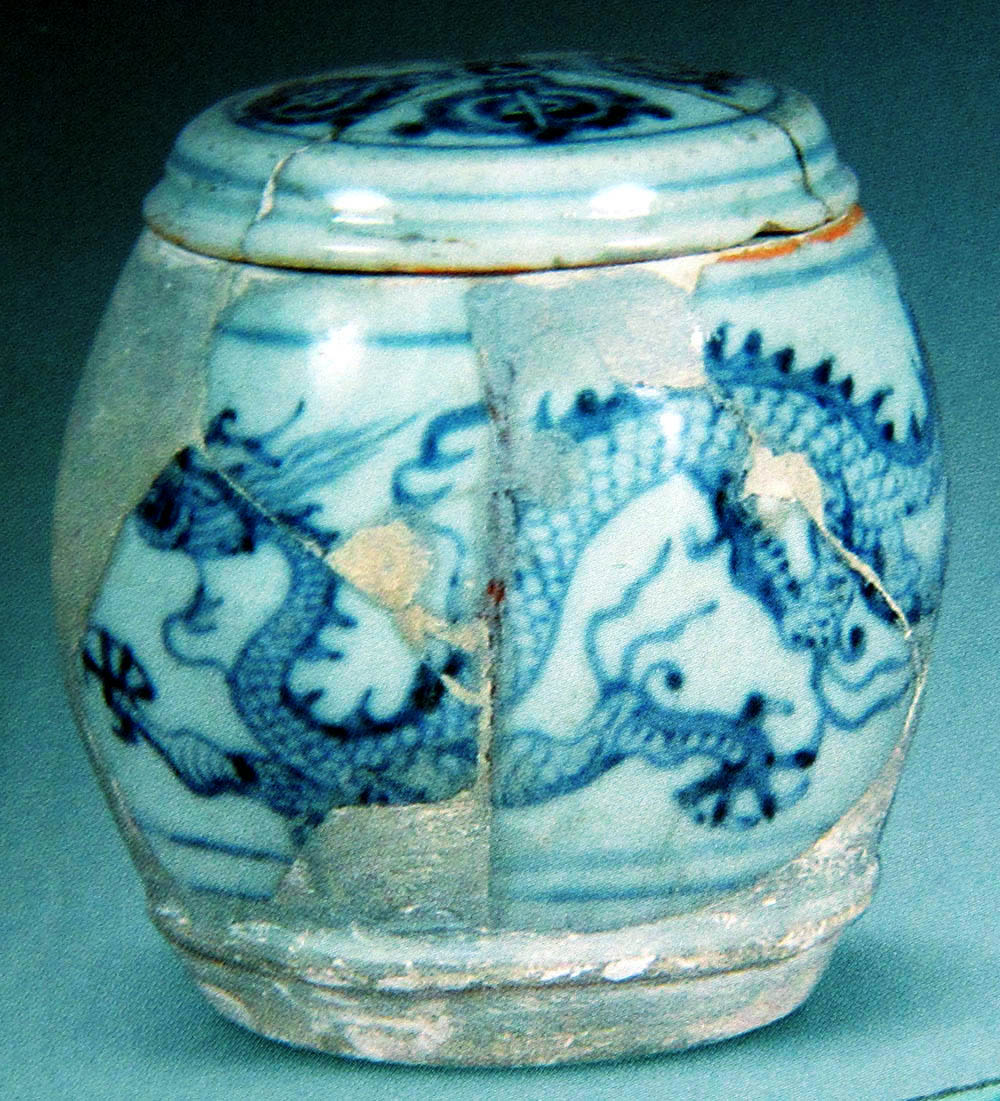 Jar with 5 claws dragon from Zhushan kiln site
From published sources, so far the earliest blue and white was a sherd with cobalt blue inscription and a date yuantong (元统)3rd year (A.D 1335) mentioned. It was excavated in Jingdezhen Daijia nong (景德镇戴家弄). There were quite a number of sherds with inscription indicating cyclical or Zhizheng date excavated in Jingdezhen. All are dated to the A.D 1340s.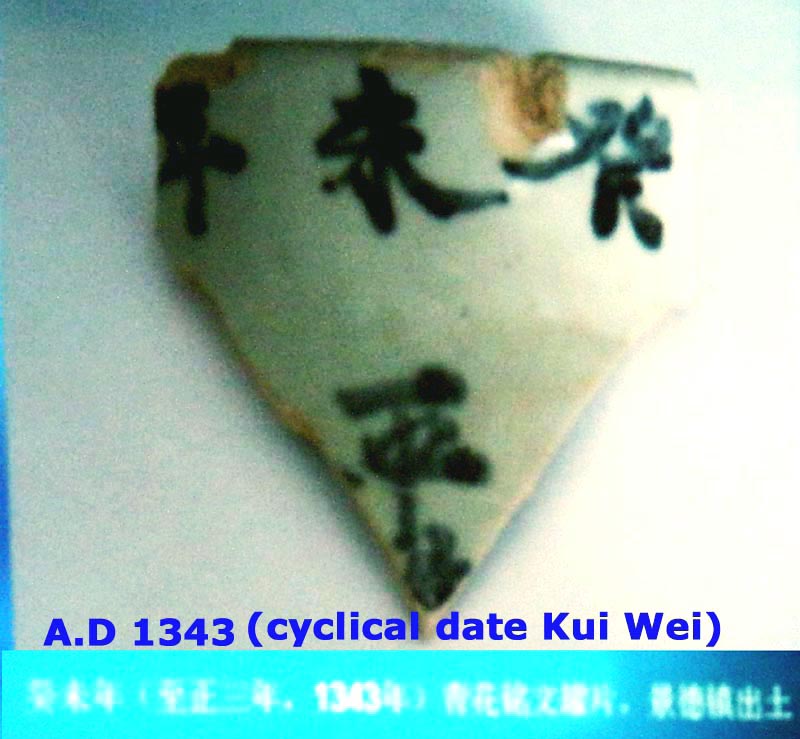 The Xuzhan Tang Museum (徐展堂艺术馆)has a big Yuan blue and white zhizheng type charger with vegetal and floral motif organised around several circular bands. There is a faint ink inscription which when under ultra-violet light, the characters zhizheng 4th year (至正四年)ie A.D 1343 could be seen.
Hence, so far far evidence indicates that production of Yuan blue and white most probably started around A.D 1330.
Types of blue and white
The typical high quality Yuan blue and whites are in the form of large plates, guan jars, Rectangular flat vases, meiping/yuhuchun/gourd-shape vases and big bowls. The best collections are now in Topkapu Saray in Istanbul Turkey and Ardebil in Iran Bustan in Tehran. The motif and composition on the pieces was similar to that of the David Vase. It is termed Zhizheng type. The quality is consistently very high and typically with different motifs organised within separate band. For example, the David vase has 8 bands of motifs. The glaze on the vessel is also more transparent with a tinge of blue. It is very different from the Qingbai or shufu glaze found on those small blue and white vessels for the Southeast Asia market.
The varieties of motif are numerous ranging from many different type of flowers and floral scrolls, dragon, phoenix, crane, heron, mandarin duck, fish, mystical animals, Buddhist precious objects, clouds, waves, human and landscape depicting scene from ancient episode from the 3 kingdom and Han Dynasty. The use of bands to organise motifs is not new and can been seen in earlier period such as those on Song Cizhou wares. What is interesting and striking is the way the potter squeezed so many varied motifs into one composition on the vessel. Visually it looks crowded as if the designer is adverse to leaving empty spaces. However, they are well-organised and do not appear messy. Another interesting approach is having some of the motifs reserved in a blue background. One distinctive and refreshing element also worth noting is having motifs within cloud collars. The early Yuan You 6th year vase mentioned earlier also has cloud collars on the shoulder. But no motif was drawn within and it is obvious that despite the use of band to separate different motif, the whole composition is sparse and not crowded as in the Zhizheng type.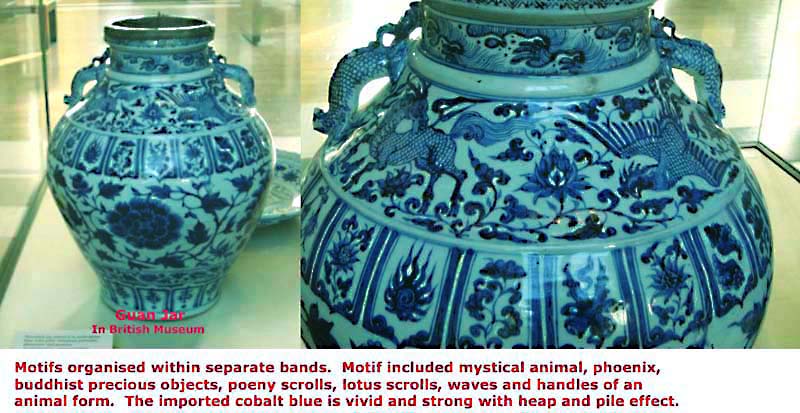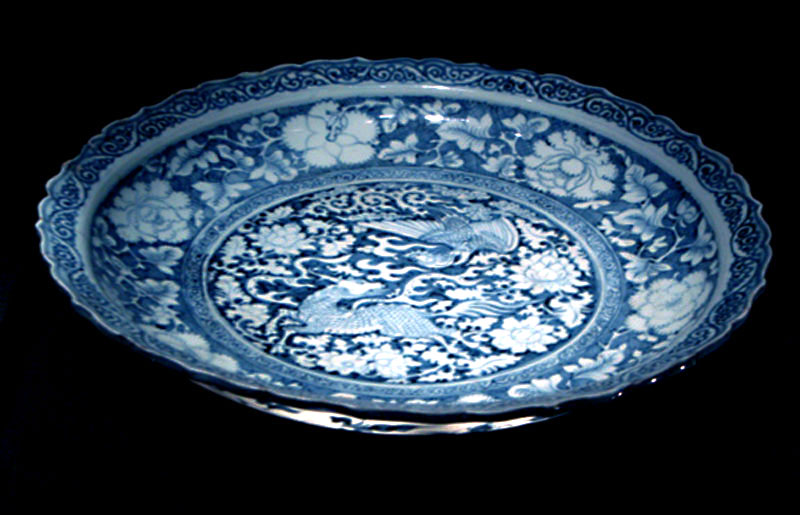 Big Plates in Beijing palace Museum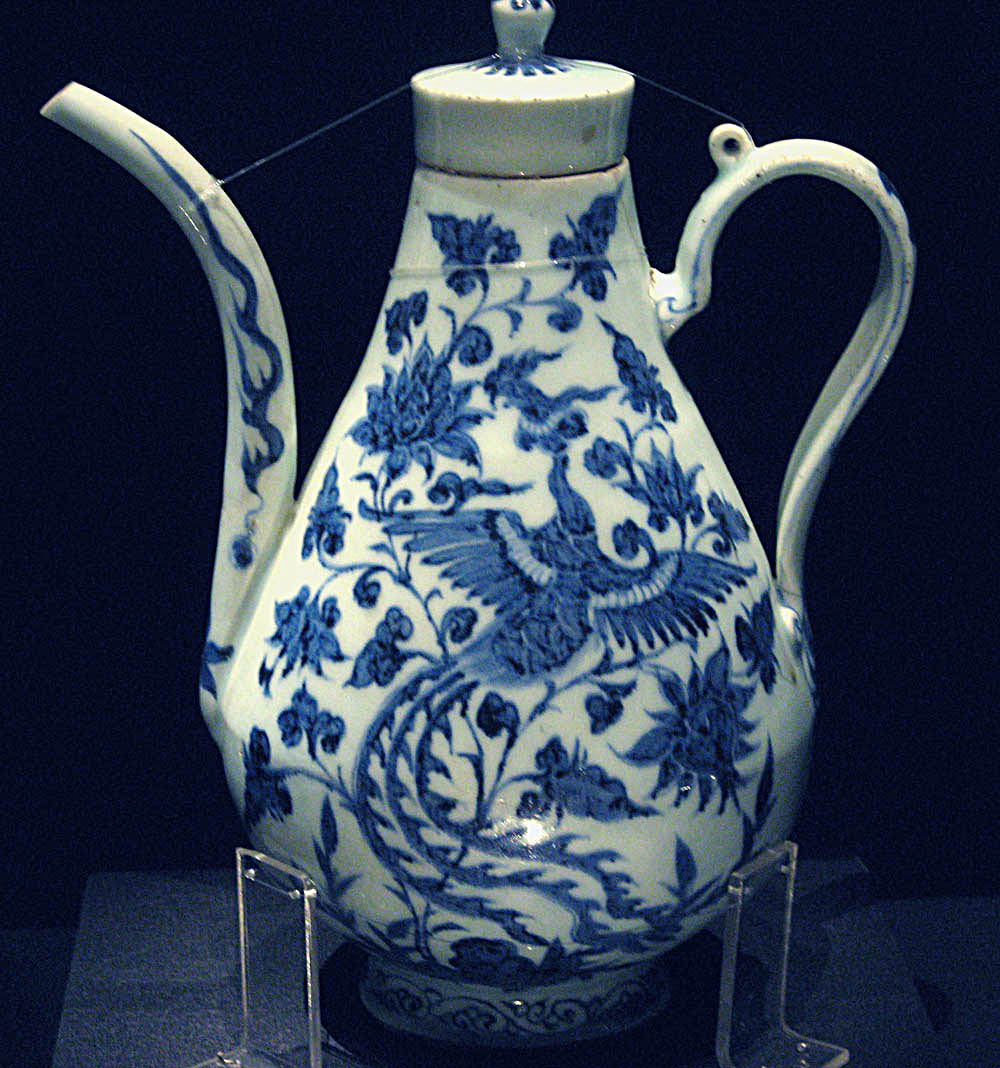 Ewer in Beijing palace Museum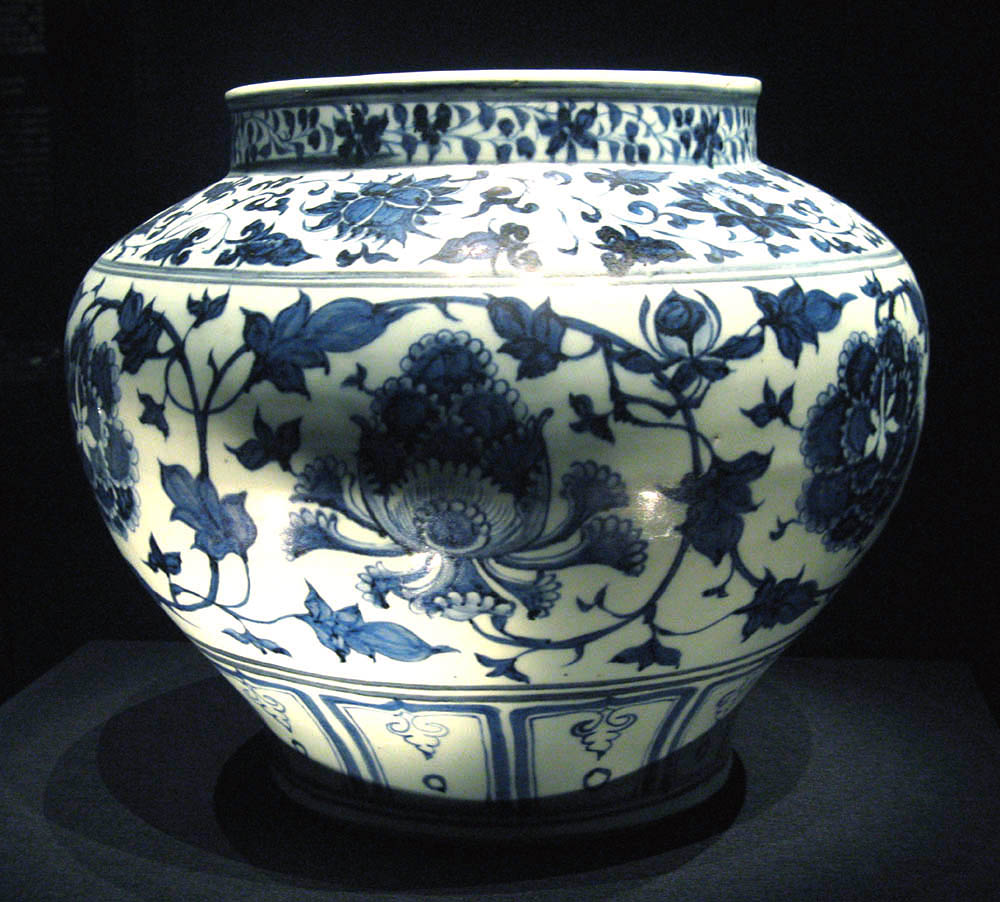 Big Jar in Beijing palace Museum
Human motif vase in the Hubei Museum

Yuan Yuhuchun Vase in Hubei Museum
Yuan Meiping Vase in Hubei Museum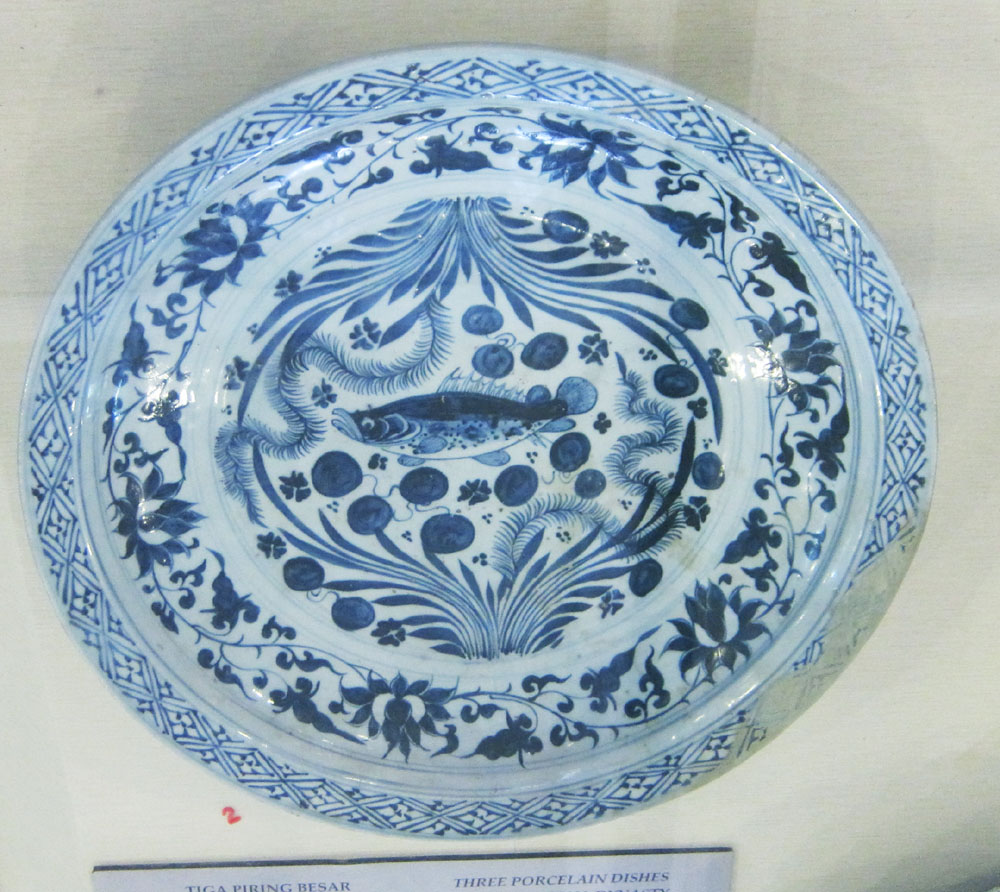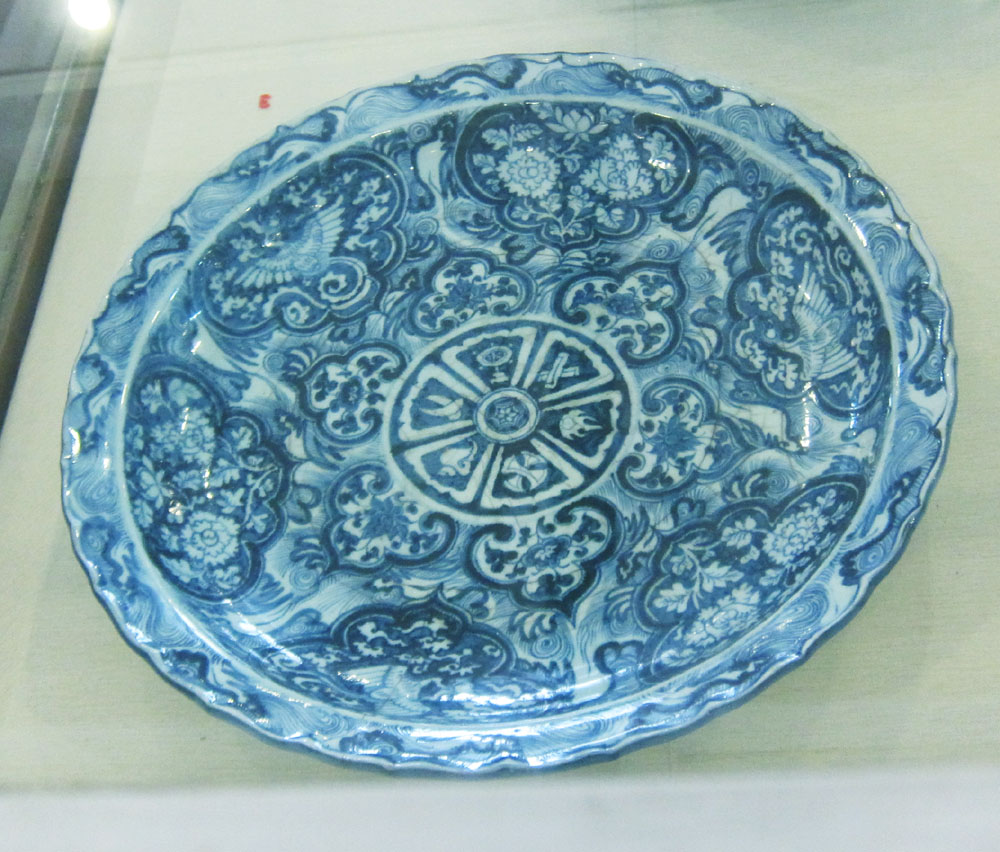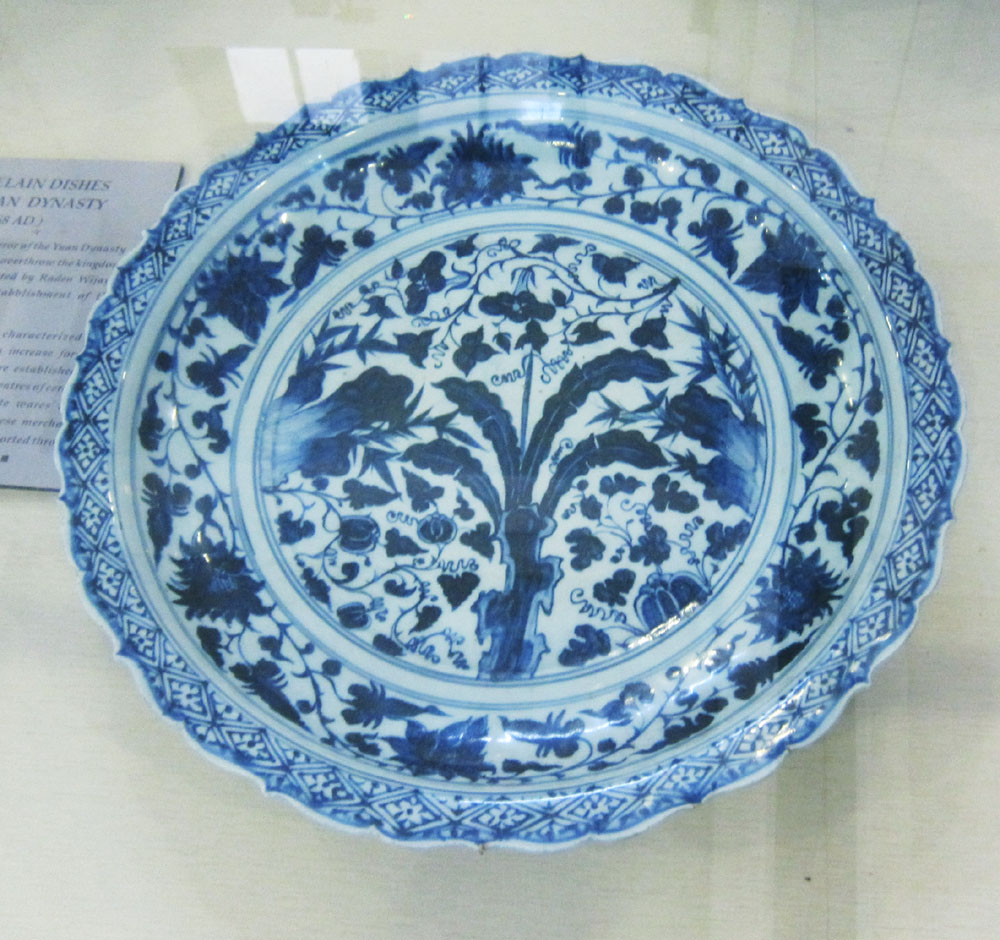 3 Yuan big Blue and white plates in National Museum of Indonesia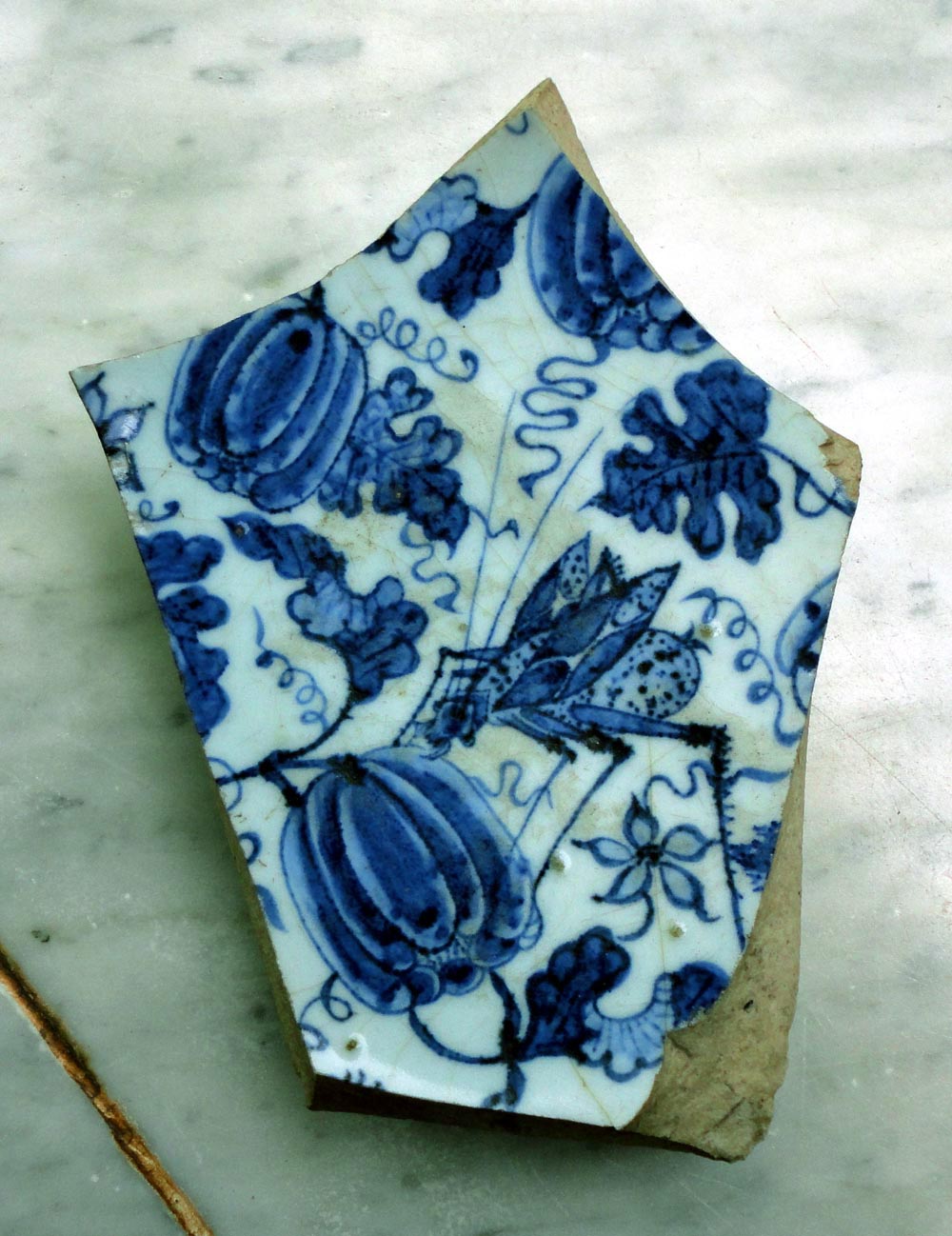 Fragment of big bowl from Trowulan in Indonesia
Besides the above high quality types, many small ewers, small jarlets, cups and bowls with a Qingbai or shufu glaze were excavated in Southeast Asia countries such as Philippines and Indonesia . The design was generally simple, consisting of floral /cloud motif decorated with greyish cobalt blue executed in calligraphic style.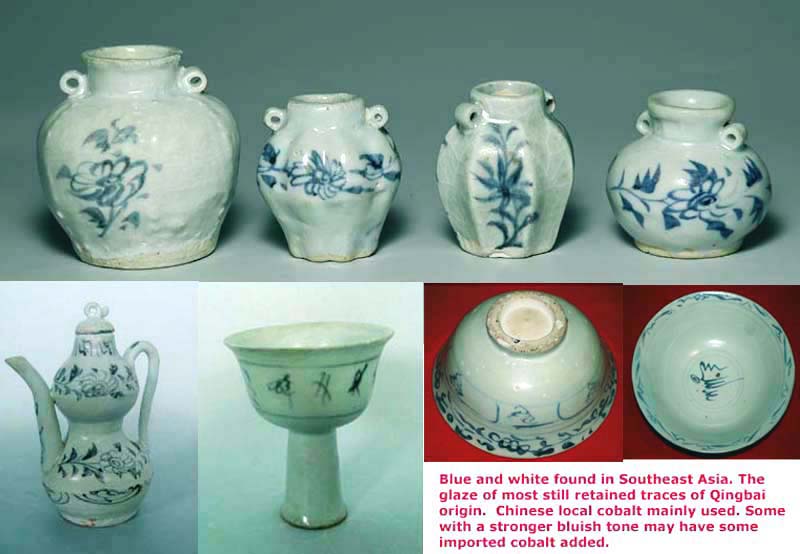 Such items were produced in Hutian kiln located South of River Nan
In Jingdezhen, a number of stem cups with simple human figures/floral motif were excavated.
Yuan/Hongwu blue and white stem cups
The blue and white exported to Middle East were generally of high quality. However, it is a mis-conception that those exported to Southeast Asian countries are low quality blue and whites. Excavations in Trowulan (in Java), the former capital of the Majapahit empire in Indonesia showed that quite a number (including vases and big jars) were of high quality.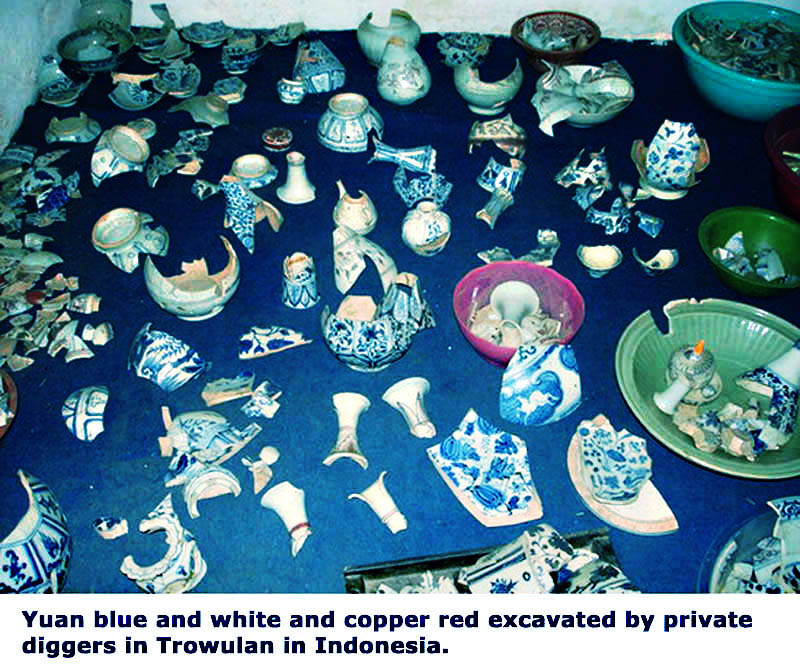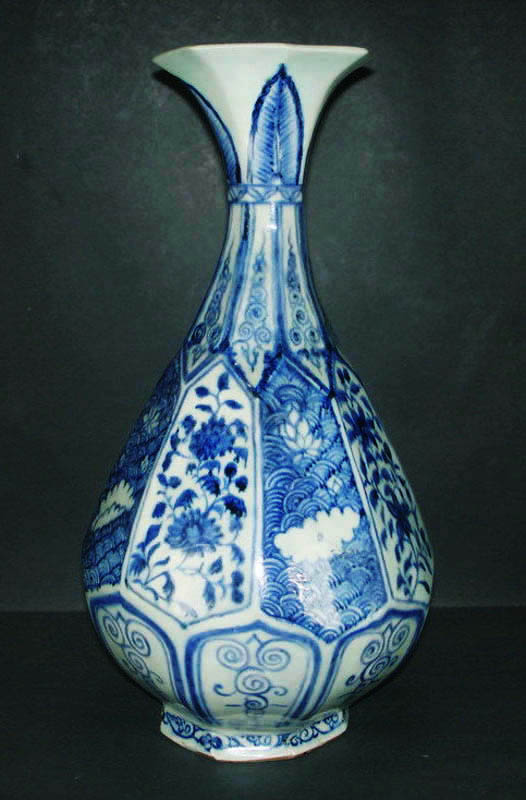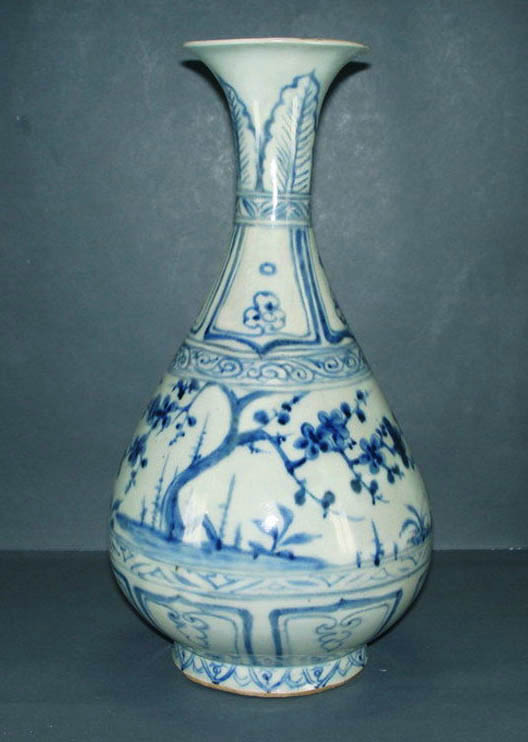 Yuhuchun vases found in Trowulan
Type of Cobalt Used
Visually, it appears that two types of cobalt are used for Yuan blue and white. The typical high quality type has a strong and vibrant shade of blue. The blue on the small pieces appears greyish in tone. Generally, it is believed that the former was decorated with imported cobalt and the latter local cobalt. The below photos gives an idea of how local and imported cobalt is thought to appear visually.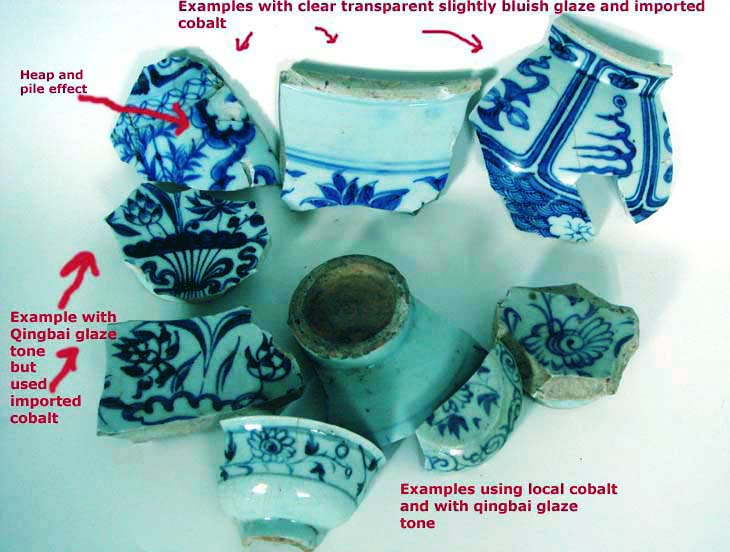 Scientific analysis shows that the local cobalt is high on magnesium and low of iron oxide. The imported cobalt is the reverse, ie. high on iron oxide and low on magnesium. The high magnesium is believed to render the grayish tone to motif drawn using local cobalt.
However, recent scientific tests have consistently revealed that the cobalt used on those Yuan blue and white which appear greyish in colour tone is also imported cobalt. It seems that other factors such as the firing temperature, the atmosphere and quality of the cobalt may have contributed to the greyish tone.
The chinese called the imported cobalt sumali [苏麻离青] or suboni [苏渤泥青] blue. Some suggested sources of the imported cobalt are Kashan in Iran or Samarra in Iraq.
Underglaze blue and copper red
There were also some vessels decorated with underglaze blue and copper red. A good example is the below guan in the David Percival Foundaton. It has added decorative elements of trailed slip beaded lines and moulded decorative element luted and looks like open work in relief. This style of decoration was popular during the Yuan period and found on many Qingbai guan jar and yu hu chun vases.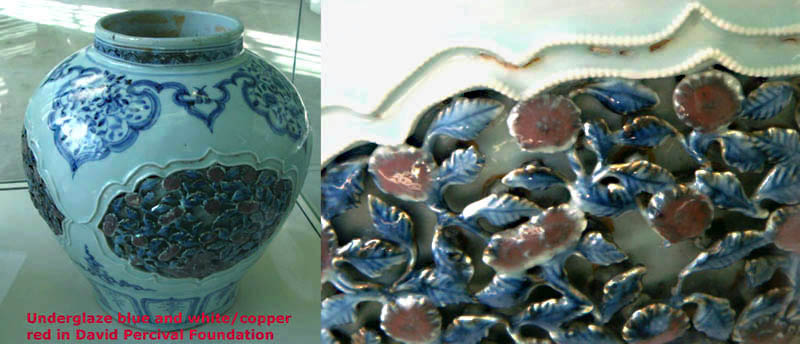 | | |
| --- | --- |
| | |
| | |
| Similar Jar in Hubei Museum found in Baoding | |
For more examples of Yuan Blue and white, please view this album
Written by : NK Koh (15 Dec 2009), updated 18 Feb 2012