Jian Temmoku bowls (Jian Zhan)
Jian temmoku bowls were prized by tea connoisseurs during the Song Dynasty. However, with changes to the tea drinking habits, it lost favour subsequently and awareness and knowledge of its eminent stature was erased from the Chinese memory with the passage of time. During the late Qing/Republican period, there was a revival of interest in these black glaze bowls as one category of antique Chinese ceramics for overseas collectors Many of the antique ceramics, with some as early as the Neolithic period, were from ancient tombs/graves and kiln sites. Many of the black glaze bowls that surfaced in the Shanghai and Beijing antique markets were defective bowls from kiln sites. According to the Jianou chronicles (建欧县志) dated 18th year of Republican era ie 1929 A.D, antique dealers paid the villagers to illegally dig up Jian kiln black bowls and transport them to Shanghai or Japan.
James Marshall Plumer, an American who served as a custom officer in Fuzhou in Fujian, got wind that the bowls originated from Shuji (水吉) in Jianyang (建阳)in Minbei (Northern Fujian). He made a trip there in 1935 and collected numerous sherds and kiln furnitures such as clay separator and saggars. He became a Chinese ceramics scholar and was noted for his study on Jian temmoku bowls.
Origin of the term Jian Zhan and Temmoku

The term Jian Zhan (建盏) first appeared in Japanese written sources during the early 14th century. Zhan (盏)is a chinese word which means a small bowl during ancient time. Many writings related to Jian zhan mistook it to mean bowls from Jianyang as Shuiji where the kilns were located is now part of Jianyang county. But that only happened during the 20th century. Prior to that, Shuiji came under the jurisdiction of Jianou (建欧) county. In 207 A.D of the Eastern Han period, Jianou, known as Jianan (建安), was set up as a county. It was elevated to prefecture status subsequently and renamed as Jianzhou (建州) in 621 A.D of the Tang era. Cai Xiang (蔡襄) in his "Record of Tea", Cha lu (茶录), wrote : ".. The tea bowls made at Jianan have purplish black glaze with hare's fur pattern. The body is slightly thicker and so retains the heat well." Hence, the term Jian Zhan is more likely refer to zhan from Jianan or Jianzhou. However, in line with the Song convention of naming famous ceramics after the prefecture that they were made, such as Ding or Yue wares, it is most appropriate to understand it as meaning Jianzhou zhan.

Nowadays, it is common to refer to Jian Zhan as Temmoku (Tenmoku) bowls. According to the Qing chronicle "Da Qing Yi Tong Zhi" (

大清一统志)", Tianmu mountain (Tenmoku in Japanese), located in present day Zhejiang Linan city (临安市), had many zen sect temples during the Song/Yuan period. Many Japanese monks went there to study and practice Zen Buddhism. When returning to Japan, they brought back with them black glaze tea bowls which included those from Jianzhou and other kilns, which they termed Tenmoku bowls (天目碗),ie bowls from Tianmu mountian. Tea drinking is an effective

means to stay awake during meditation.

In the Japanese work (禅林小歌) dated 1394 - 1427 A.D, there appeared to be distinction between various types of Jian zhan and other types of tea bowls such as Fuzhou zhan (福州盏) and tenmoku. However, subsequently the term tenmoku was used loosely to refer to all types of black/brown tea bowls.
Tianmu mountain in Linan city located west of Hangzhou
Tea competition and Jian Zhan
Tea from Fujian Fuzhou and Jianzhou were mentioned in Tang Lu Yu's treatise on tea (陆羽茶经). By the Northern Song Dynasty, Jianzhou tea, ie Jian cha (建茶) achieved so much fame for its quality that in 977 A.D, Bei Yuan Yu Cha Yuan (北苑御茶园), an officially managed imperial tea plantation was established in Jianzhou (present day Jianou city). The tea leaves gone through the process of powdering, steaming and baking. After which, they were packed in cake form before sending to the palace.
Cai Xiang (1012 - 1048 A.D) ), a native of Xianyou (仙游) in Fujian, was once in charge and supervised the official Beiyuan tea plantation. During the stint in Jianzhou, he gained deep knowledge of a leisure activity called tea competition enjoyed by the locals. He became an ardent convert. Using his influence as a high ranking court official, he introduced the art of Fujian tea competition to the imperial court. In his treatise "Record of Tea", Cai Xiang ranked a type of white Jiancha called Dragon Pheonix tea (Longfeng tea 龙凤茶) and Jian purplish black glaze bowl with hare's fur pattern as the best for tea competition. Through his active promotion, tea competition became a popular and noble activity of the imperial court and the literati class. This activity gained a further boost during the late Northern Song Emperor Huizong's reign ( AD 1101-1125). He was a great connoisseur of the tea culture and displayed his in-depth understanding in a twelve-chapter dissertation "Discussion of Tea in the Daguan period " (Da Guan cha lun 大观茶录 ). He too advocated Jian hare's fur tea bowls as the best for tea competition. The competition was judged based on certain criteria, such as the taste, fragrance, colour of the tea (white superior to yellowish tone). During the contest, the tea was whisked to white froth The tea should stay well-mix and the first to show traces of residue loss was declared the loser.
Tea competitions became the favourite past time of the rich and poor in many areas in China. Due to popular demand, Jian kilns produced large quantity of tea bowls during the Song period. For those common folks who could not afford Jian Zhan, they could avail themselves of cheaper version of tea bowls produced in other provinces and numerous other Fujian kilns.
Origin, dating and characteristics of Jian Zhan
Shuiji, a market town in present day Jianyang,was the location where the ancient Jian kilns were found. Since 1960, 4 official archaeological excavations, ie in 1960, 1977, 1990 and 1991, were carried out in Shuiji. Kilns were discovered in small villages in:
Luhuaping (芦花坪) - celadon and black glaze sherds
Niupilun (牛皮仑)- celadon and black glaze sherds
Daluhoumen (大路后门) - black glaze, small quantity celadon and blue and white sherds
Yuangtoukeng(源头坑) - black glaze sherds
Anweishan (庵尾山) - celadon and black glaze sherds
Shuiweilan (水尾岚) - black glaze sherds
Yingzhanggan (营长乾) - black glaze and qingbai sherds
Qililan (七里岚) .- black glaze sherds
Based on archaelogical evidence, small scale celadon wares were produced during late Tang/5 Dynasty period in kilns located at sites such as Luhuaping (芦花坪), Niupilun (牛皮仑) and Anweishan (庵尾山). The wares consisting of bowls, plates, jars, ewers, cover boxes and etc. The vessels which are generally rough and stylistically similar to the celebrated yue wares. The glaze is generally uneven and the lower portion of the external wall of the vessel is unglaze. The vessels were fired with protection of saggars.

By late 5 Dynasty/Early Northern Song, the Jian potters started to produce two types of shallow bowls with slightly in-curving rim. The lower external wall and foot is unglaze. The glaze is thin and black/dark brown in colour. The bowl is quite thinly potted with a slight protrusion on the inner base. Below the rim, the wall is of relatively even thickness. The paste is greyish or greyish brown. Such bowls were recovered from the kiln in Anweishan (庵尾山). The bowl was fired upright in a saggar.
Precursor of the typical Jian wares
Tao Gu (陶穀) (903 - 970 A.D) in his work Qingyilu (清异录) wrote that among the tea bowls made in Min (Fujian), there are those decorated with partridge-feather mottles. His work has often been quoted to back the dating of Jian tea bowls to 5 Dynasty/early Northern Song period. It gives the impression that by late 5 Dynasty/early Northern Song, Jian potters were already producing the celebrated Jian zhan. However, based on archaeological evidence, the bowls of late 5 Dynasty/Early Song period are generally rough as compared with the mature products of mid Northern Song onward. Extant tea bowls with partridge-feather mottles are found in bowls which were stylistically produced at least from mid Northern Song period onward. In fact, the authenticity of Qingyilu is now being questioned by some Chinese scholars. Some suggested that it was a fictitious work of late Northern Song period.
Based on the archaeological findings, the typical Jian tea bowls were produced from the Mid Northern Song (perhaps from 2nd quarter of 11th century) to late Southern Song period. Jian kilns also produced small quantity of black glaze cups, bowl-shaped lamps and bo-shaoed bowls. There are at least 8 different types of tea bowls in 3 sizes that were produced during the duration.
From the bowls recovered from the kilns, it is clear that type 1, 3, 4, 5, 6, 8 and 8 were found in large quantity. Type 1 with a conical form and an indent near the rim is the most classical form which is usually associated with the celebrated Jian Zhan. Based on Jian bowls recovered from graves, this form became the dominant form from the late Northern Song period onward. In fact this served as a prototype which was widely copied by potters from other kilns. Compared with those from other kilns, the typical Jian bowl has a thicker and lustrous glaze. The paste is usually purplish black and more dense. (It should be noted some especially the small size bowls have greyish or redish brown paste. This is because they were placed in locations which received uneven or lower heat while firing in the kiln). The unglaze lower portion is carefully finished. It appears smooth and usually do not show shaving marks when trimming the external wall. The wall of the bowl thickens as it descends towards the foot. The base is thick and the square cut foot is neat and the outer base sits within a shallow inner footring.
Some examples of Jian tea bowls
For tea bowls sent as tribute to the palace, there are at least a portion which is marked with Gongyu (供御) ie tribute or Jinzhan (进盏) meaning to present bowl. The characters are either incised or impressed. They were found in the kilns dated mid Northern Song to Southern Song.
Besides Gongyu and Jinzhan mark, there are also others incised with chinese characters of surname/name of the potter/or kiln owner or Chinese character/chinese numeral which could indicate location which item was to be place in the kiln.
Bowls with glaze decorated with hare's fur marking or partridge feather mottles were highly prized by the Song tea culture connoisseurs. Many Song literati made reference to them in their poems and commentary. Hare's fur markings are silvery or rustic streaks which are found on the interior and exterior wall of the lustrous black glaze bowl. According to Nigel Wood in his book "Chinese Glazes", once the glaze melted, a layer of thin iron-rich droplets coalesced to form a thin layer within the glaze. Some of the iron-rich droplets were brought ot the surface by bubbles and run down the sides of the bowl under the influence of gravity. The iron oxide in these streaks crystalised out into silvery tone if under reduction or rustic tone if under oxidisation atmosphere.
Hare's fur bowl with rustic streaks

Hare's fur sherd with silvery streaks
As regard Partridge feather' glaze, in the past there were debate on whether the markings actually refers to fine markings on the back of the partridge or large light-coloured spots on its breast. Most argued that it cannot be the fine markings on the back as some other types of bird also have similar marking. On the other hand, large light-coloured spots is unique to a type of partridge in Fujian. This is now the more widely accepted meaning for partridge feather mottles. In 1988 a shard with 66 carefully placed white glaze spots was excavated from the Shuiweilan (水尾岚) kiln. The base has a incised gong yu mark suggesting that it was originally intended for tribute. This is now acknowledged as partridge feather glaze. It make sense of a Northern Song poet's description of a Jian bowl having markings that appear 'like melting snow on dark water.
| | |
| --- | --- |
| | |
| A Fujian partridge with white spots on the breast | Jian sherd with white spots and gongyu mark |
In the Japanese collections, there are some Jian Zhan with silvery or rustic oil-spots (termed Yuteki in Japanese). In DaDe Temple, Kyoto in Japan there is a Jian Zhan with oil-spots. The silvery oil-spots are large, the result of several oil-spots congealed into bigger spots during firing. Indeed, they resemble the partridge spots. Those with smaller oil-spots are also classified as partridge feather type although strictly speaking the similarity is less convincing.
Oil spots Tenmoku in Japanese collection. The spots are smaller as compared with that from Dade temple
Oil spots tenmoku bowls are scarce. According to Nigel Wood : "It happened occasionally that kiln temperatures began to fall while the glazes were still boiling, thereby fixing the iron-rich spots before they could run down into streaks. ... The effect was copied in north China during the the Song and Jin period, using a more reliable technique that involved the application of an iron-rich (and perhaps magnetite-based) slip beneath an ordinary black temmoku glaze. The success of this approach has meant that northern oil spot temmokus are less uncommon than the jian originals." His comments is important and rectify the erroneous explanations in some past published text that Jian hare's fur and oil spots glaze involves the application of an iron-rich slip.
There are 4 extremely rare tenmoku bowls with yohen glaze in the Japanese collections. The term Yohen means dazzling and brilliant kiln transmutation. The clusters of brown-colored spots of various sizes are either surrounded by light blue or deep blue or golden iridescent film.
In the past, no known example of Yohen was found outside Japan. Few years ago, a broken piece was found in Hangzhou in a location near the imperial palace.
Yohen temmoku found in Hangzhou
By the late Southern Song period, Jian potters also manufactured qingbai wares with carved or impressed motif. One of the kiln at Yingzhanggan (营长乾) has a layer of qingbai sherds above Jian zhan sherds layer. This indicated that Jian kiln was facing stiff competition from Jingdezhen which produced Qingbai wares. The decline popularity of Jian Zhan could also be linked to the decline in popularity of tea competition. To ensure their survival, some kilns were forced to branch out and produce the increasingly more popular Qingbai wares. Latest by early Yuan period, Jian kilns ceased production.
Temmoku bowls from other Fujian kilns
To meet the hugh domestic and overseas demand for temmoku bowls, they were also produced in large quantity in other kilns in Fujian, mainly in Jianyan (建阳), Wuyishan (武夷山), Songxi (松溪), Guangze (光泽), Jianou (建瓯), Pucheng (蒲城), Nanping (南平) , Changting (长汀), Fuqing (福请), Minhou (闽侯) and Ningde (宁德). Most of the sites produced a mix of celadon, qingbai and black wares. For temmoku bowls, the dominant form produced were similar or variants of the Jian conical bowl with the indent near the rim.
Among the sites, those at Wuyishan Yulinting (武夷山遇林亭), Nanping Chayang (南平茶洋) and Fuzhou Dongzhang (福州东张) were large in scale and were found in overseas especially Japan.
Wuyishan Yulinting (武夷山遇林亭) produced an interesting form with decoration in gold. In most instances, the decorations have faded and only traces could be seen. The motif includes dragon phoenix, crane, pine, bamboo, prunus, flowers and orchid. There were also those with auspicious wordings or landscape. In some past ceramics publications, such bowls have been erroneously attributed to Jian kiln. Bowls from this kiln have mainly greyish to greyish white paste.
A bowl with traces of gold decoration of auspicious phrase "寿山福海" connoting longevity
The medium size temmoku bowls from Nanping Chayang (南平茶洋) is distinguishable by a thin horizontal ridge where the foot meet the wall. This feature appears to be unique to this kiln. The shaving marks are usually clearly seen on the unglaze lower external wall.
A medium size (12 cm dia. ) bowl from Nanping Chayang kiln
In the 1980s, local residents recovered a large number of small Temmoku tea bowls from a wreck at Bai Jiao (白礁) in Fujian Lianjiang Dinghai (连江定海). The Fujian ceramic experts observed that many of the bowls were similar to those produced at Fuqing Dongzhang (福请东张) and Minhou Nanyu (闽侯南屿) and dated them to Southern Song period. Dong Zhang kiln complex was large and comparable in size to that at the Jian complex. They produced large quantities of temmoku and celadon bowls. In the Japanese work (禅林小歌) dated 1394 - 1427 A.D, a type of tea bowl called Fuzhou zhan (福州盏) was mentioned. During the Song/Yuan period, Fuqing and Minhou came under the jurisdiction of Fuzhou. Hence, Fuzhou zhan most probably included tea bowls produced in those two counties. In ancient sites in Japan Fukuoka and Kamakura, there were numerous similar type of tea bowls recovered and were dated to mid 12th to first half of 13th century. Many Dongzhang bowls were also recovered from ancients sites in the coastal Fujian region.
After studying the large number of small tea bowls from the Lianjiang wreck in my collection, it is hard to confirm with certainty the actual kiln of production. Those from Dongzhang, Minhou Nanyu (闽侯南屿) and Ningde Feiluan (宁德飞鸾) appear similar. They share the characteristics of having a casual finishing with poorly formed foot and shaving marks. The profile of the conical bowl with the indent at the rim could vary to a large degree. The lower wall could descent more gradually or steeply to the foot. The glaze is more thinly applied and large number show a thinner layer of glaze especially at the lower wall near the foot. Some of the bowls also have bluish white or rustic hare's fur markings but are not well-defined and clear compared to those from the Jian Kiln. The colour of the glaze ranges from black, black with rustic patches, brown, tea-dust or rustic .
Examples from Lianjiang wreck showing the different profile of the conical bowls
Examples from Lianjiang wreck. Below one shows traces of hare's fur markings
Some examples of temmoku bowls from the Min Hou, Fuqing and Ningfei kilns are shown below.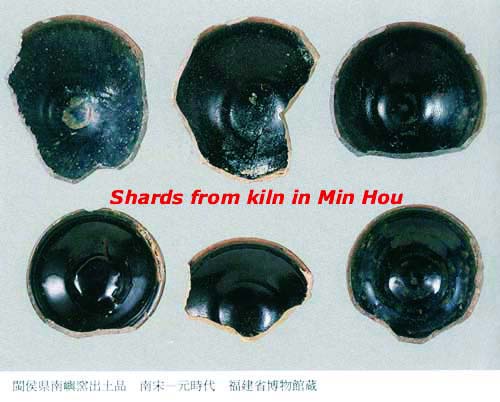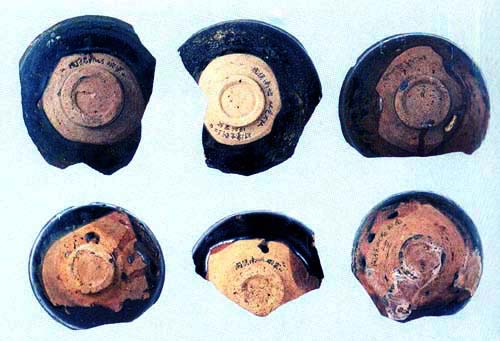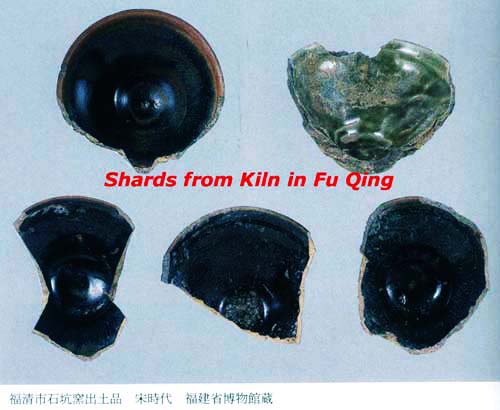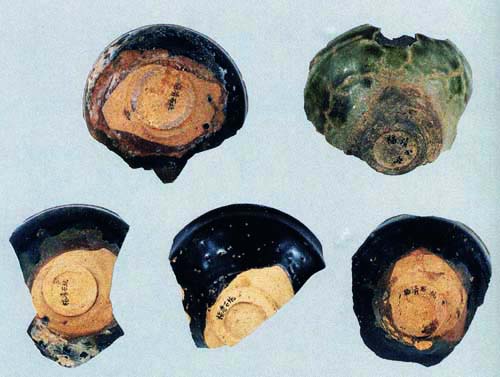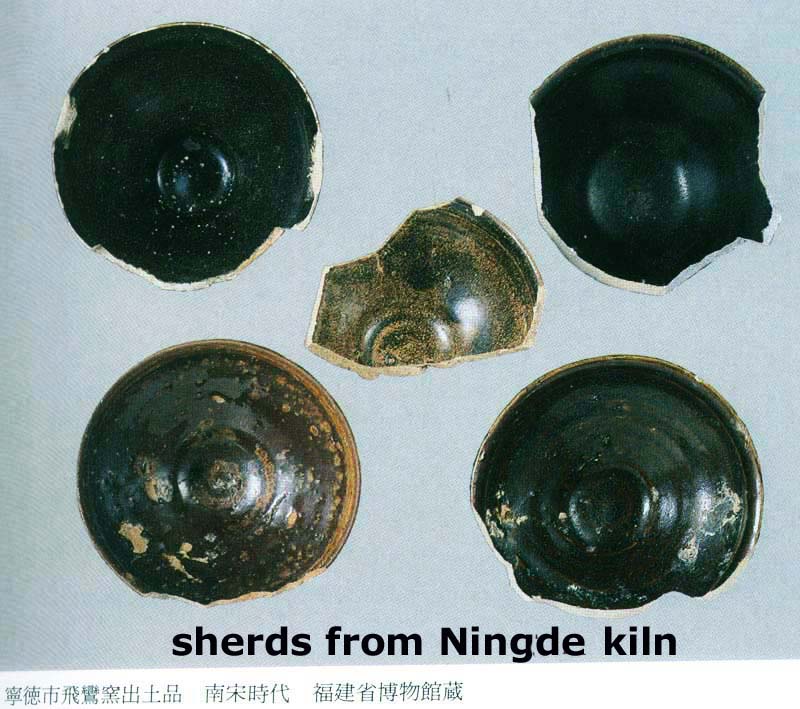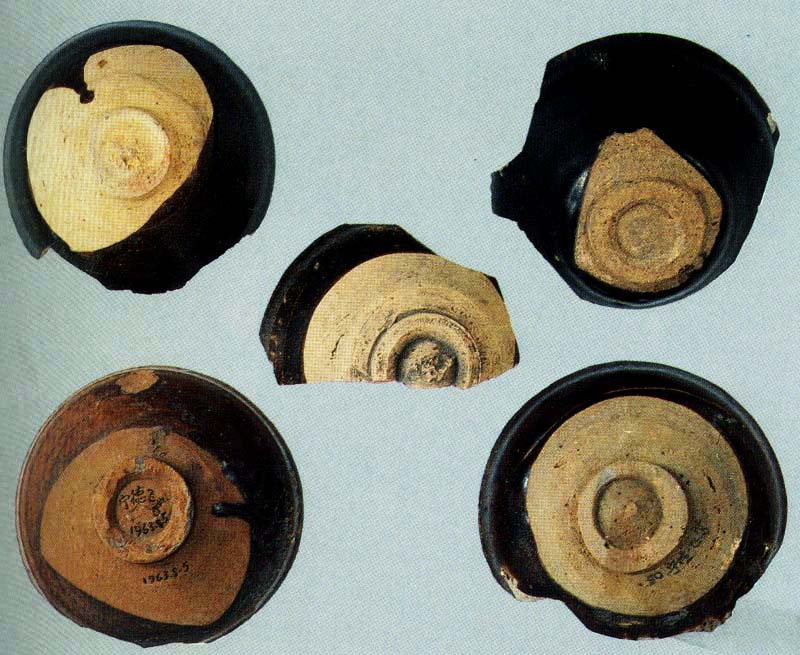 Fueled by the intense interest and wide participation of the common folks in tea drinking and the hobby of tea competition during the Song period, the production of temmoku bowls spreaded wide and far. In Northern China, many kilns which were well known for proudction of their own brand of ceramics products, also produced temmoku bowls which initially were influenced by those produced by Jian kilns but later also added local variations and new range of black glaze products. The most interesting emulation of Jian is most probably the deliberate coating of a black slip on the outer base to give a appearance of the purple black paste of Jian bowl. Some of the Shanxi and Henan temmoku bowls also have good hares' fur or oil spots effects, comparable in quality to those made its famous Jian counterparts. Some interesting examples from the Shanxi and Henan kilns are shown below:
Shanxi and Henan Temmoku shards with hares' fur and oil spots
There are also many from other kilns which do not apply to black slip to conceal the whitish paste on the outer foot. Some examples are shown below:
3 examples of Jin Temmoku bowls from the Henan Dangyanyu kiln (当阳峪窑)
Written by : NK Koh (15 Jul 2012), updated: 11 Nov 2017
References:
1. 建窑瓷 - 叶文程/林忠干
2. Hare's Fur, Tortosieshell and Partridge Feathers - Robert D. Mowry
3. Chinese glazes - Nigel Wood