Symbolical objects/Rebus Design
Many of the motifs on chinese ceramics were meant to convey an auspicious symbolical meaning.
Symbolical objects
Some are easy to understand once we know the quality traditionally attached to the object. For example, the pomegranate represents fertility as it has many seeds. Some other common examples are as follows:
Object
Symbol of
Origin
peach
Longevity
Associated with longevity as a result of legends for eg. the story of Dong Fang Suo who ate the peaches stolen from Xi Wang Mu (Queen Mother of the West) and acquired a longevity of nine thousand years.
crane
longevity
Associated with longevity as it is the constant companion of Shou Lao (God of longevity).
pine tree
longevity/enduring friendship
The pine tree is evergreen and due to its toughness and ability to withstand cold and survive for hundreds of years, it is regarded as an emblem of longevity.

It is also commonly associated with plum and bamboo which also flourishes in the winter. Due to their common quality of not withering in the cold winter, they symbolises constant and enduring friendship in adversity.

lingzhi (fungus)
longevity
The lingzhi is widely regarded by the Chinese as a herb which prolong life. It is also widely mentioned in legends and believed by the Taoists as the food of the immortals and genii.
peony
Riches/honours
The peony is called the king of flowers or flower of riches and honours. It is regarded as an omen of good fortune if it flourishes. However, it foretells ill fortune should it fade suddenly.
a pair of mandarin ducks
conjugal affection
This male and female mandarin ducks always appear in pair and are particularly attached to each other. They are emblematic of conjugal affection and fidelity.
fish and dragon
literary aspiration/success
According to legend, every year the carps swim up the Yellow river against strong current to the famous falls of Lung-men (the dragon gate). Those which succeed in leaping up the treacheous falls are transformed into dragons. It is synonymous of literary success of students who had to clear 3 levels of examination before they could be appointed to official government posts .
bamboo
longevity/enduring friendship
It is considered to be a symbol of longevity as it is durable and is evergreen and flourishes throughout winter.
Rebus Design
Another category is the rebus design which utilised the similarity of the pronunciation for the object and and another character/word to convey the meaning. For example, the bat is used as the chinese pronunciation for both bat and happiness is fu. Some other examples are given below: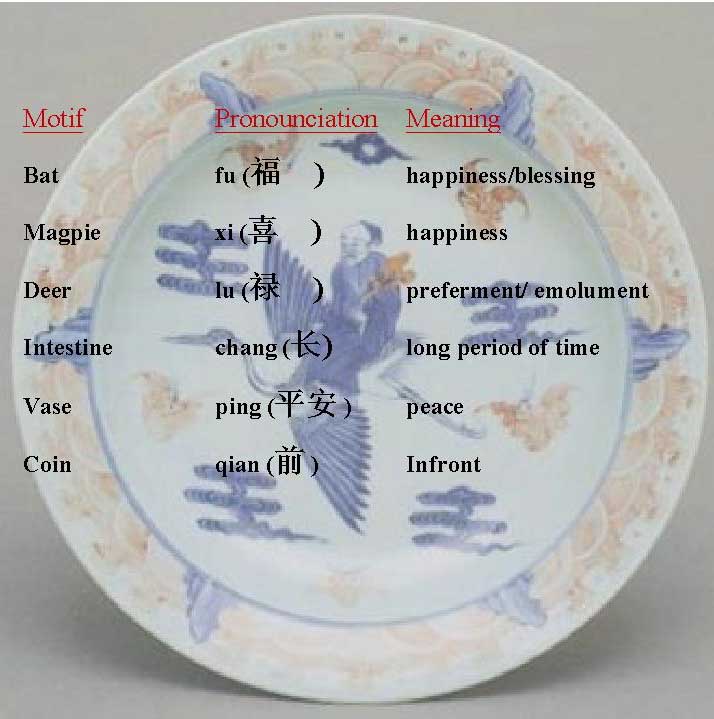 The more complicated ones may utilise both a combination of the symbolical objects and/or rebus design to allude to usually good wishes or felicitous phrases related to happiness, prosperity, longevity and success in life. The two common ones are:

Happiness/blessings, preferment/emolument, longevity (fu, lu, shou) is a favourite theme on decorated ceramics, especially during the Qing Dynasty.

It can be represented by the Taoist Triad, shou-xing, lu-xing and fu-xing, stargods of Longevity (bald old man on the left top), Preferment and Happiness (man carrying a boy).

It can also be in a symbolic form, for eg. as on the motif on the left bottom. The pine tree and lingzhi fungus represent shou (longevity), deer for lu (preferment), and the bat in the sky represents fu (happiness).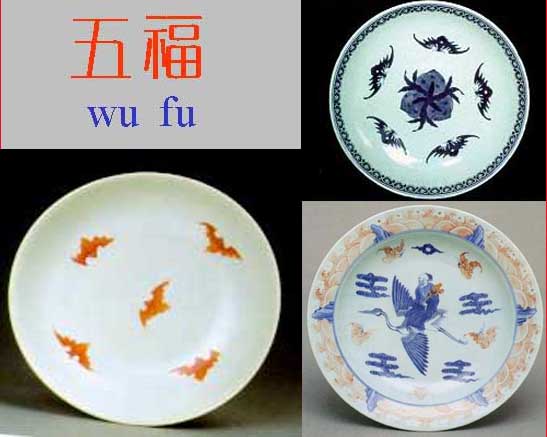 The design of the five bats (same prounciation with happiness/blessing) is a pictorial rebus standing for the Five Blessings: old age, wealth, health, love of virtue and natural death.
There are other variations of the wu fu. The most common being wu fu peng shou. This is usually in a symbolic form of shou (such as shou lao on the crane, chinese character "shou" or the peach) encircled by 5 bats. This is a congratulatory form of motif. The character "peng" means to present. It is usually used to congratulate a person on his birthday and allude to wishing ("presenting") him a long life.